Visiting UP Chief Minister Yogi felicitated; Bibaha Panchami brings devotees to Janakpur
December 12, 2018 | 10:19 pm&nbsp&nbsp&nbsp&nbsp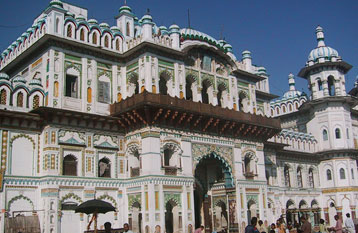 Janakpur / Dec 12: The Province No 2 Government today felicitated the Chief Minister of Uttar Pradesh state of India, Yogi Adityanath, who arrived here as part of the bridegroom's party from Ayodhya to participate in the Sitaram Vivah Mahotsav.
The Chief Minister of Province-2, Lal Babu Raut, honoured the Indian Chief Minister Yogi at a function held at Madhesh Bhawan in Janakpurdham today. On the occasion, Chief Minister Raut welcomed his Indian counterpart and presented a Letter of Felicitations.
In the letter of felicitations, Chief Minister Raut has hailed the religious and cultural speciality of Nepal and India as exemplary and urged for the cooperation and commitment of all in the campaign of strengthening the democracy.
Present on the occasion were Minister for Culture, Tourism and Civil Aviation Rabindra Adhikari, senior leader of Rastriya Janata Party Nepal Mahantha Thakur, coordinator of the Rastriya Janata Party Nepal's presidium Rajendra Mahato, lawmaker Komal Oli, the ministers of the Province-2 government, speaker of the Provincial Assembly Saroj Kumar Yadav, Ambassador of India to Nepal, Manjeev Singh Puri and members of the provincial assembly.
Meantime, UP Chief Minister Yogi Adityanath attended the Bhandara (luncheon) hosted in his honour by the Province-2 government earlier today.
Bibaha Panchami brings devotees to Janakpur
Thousands of Hindu devotees have arrived in Janakpur from various places of Nepal and India to attend the Ram-Janaki Bibaha Panchami festival. A special programme is organised in Janakpur every year on the occasion of Bibaha Panchami to commemorate the wedding of Hindu Goddess Sita, the daughter of King Janak, with Lord Ram, the son of King Dashrath.
The festival falls on the fifth day of the Shukla Paksha in the month of Margasirsha (November-December) according to the lunar calendar.
The Ram-Sita wedding ceremony comprises various rituals like Tilakotsav, Matkor, Swoyambar and the Bibaha as per the Mithila culture. As per the ancient scriptures, a lavishly decorated statue of lord Ram mounted on a throne is carried on a palanquin from the Ram Temple to the Bahrabigha Ground. A statue of Sita is also carried on a specially decorated palanquin from the Janaki Temple to the Bahrabigha Ground.