Nepal has made notable progress on child and maternal health under MDGs, says Minister Yadav
December 12, 2018 | 10:18 pm&nbsp&nbsp&nbsp&nbsp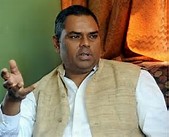 Kathmandu / Dec 12 : Deputy Prime Minister and Health Minister Upendra Yadav said on Wednesday that Nepal has achieved notable progress in the realization of the goals related to child and maternal health under the framework of Millennium Development Goals (MDGs).
Addressing the 'Partners' Forum 2018' in New Delhi on Tuesday, Yadav said that Nepal was able to achieve the MDGs target in reducing child mortality and the country was close to meet the target of maternal mortality.
"Today we continue to focus on the unfinished business of MDGs era," he said adding that the government has made concerted efforts to address the major killers of mothers, newborn and children under the framework of Sustainable Development Goals.
"However, achieving the maternal and newborn related SDGs targets with equity is a tremendous challenge for Nepal. In this noble endeavor, we have a lot of expectation from the partnership forum like this. For us, this is an opportunity to share experiences, learn from each other and galvanize the much-needed international support," the minister said.
Yadav said that the Constitution of Nepal has ensured health as the fundamental human right of the people adding that the policy and legal framework, as well as service delivery mechanism have been devised accordingly in an effort to realize his constitutional vision.
"When it comes to child and maternal health, we have a robust Safe Motherhood and Reproductive Health Act. Maternal, newborn and child health services have been included in the basic health service package and have been provided through all levels of health facilities for free. This requires a partnership approach across all levels of government and among various sectors," he said.
He also said that the Nepal government is committed to achieving the Universal Health Coverage for all.
Minister Yadav reached New Delhi on Tuesday to take part in the forum which is an important international event dedicated to the agenda of maternal and child health. It takes place in every 4 years. The Forum is mainly steered by the WHO-based multi stakeholder institution named The Partnership for Maternal, Newborn & Child Health.