Police seize passports of eight foreigners including contractor of Melamchi Drinking Water Project
December 17, 2018 | 9:14 pm&nbsp&nbsp&nbsp&nbsp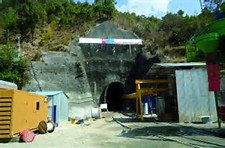 Kathmandu / Dec 17: The government confiscated the passports of the eight foreign workers including the contractor of Melamchi Drinking Water Supply Project Christiano Cruso involved in the construction of the project, on Monday.
The Metropolitan Police Crime Division said that the passports of those foreign workers were confiscated after they were found absent on their duties for the past two days.
The police confiscated their passports suspecting that the seven foreign workers were preparing to flee the country on the pretext of celebrating Christmas in their home country.
A total of 29 workers involved in the project are found absent on their duties event as the project deadline is expiring in next 46 days in line with the deal reached between the government and the Italian Company CMC.