Prime Minister Oli seeks one week's time to address RJPN's demands
December 25, 2018 | 10:21 pm&nbsp&nbsp&nbsp&nbsp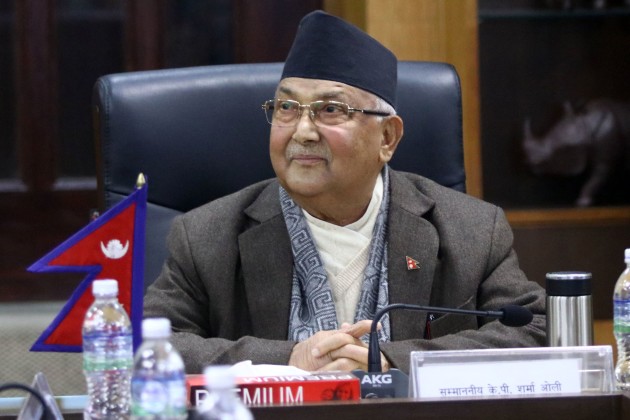 Kathmandu / Dec 25: Prime Minister KP Sharma Oli has sought one week's time to address various demands of the disgruntled Rastriya Janata Party Nepal including the constitution amendment.
The prime minister said so during a meeting with the top leaders from the RJPN at the Prime Minister's Official residence in Baluwatar, on Tuesday. On the occasion, Prime Minister Oli reiterated to address the demands put forth by the RJPN including the constitution amendment.
"Oli told us he wanted one week's time to study and make the government official stance clear regarding our demands," a member of the RJPN presidium Rajkishor Yadav told Republica Online.
Emerging from the meeting, Coordinator of the RJPN presidium Rajendra Mahato told reporters that they sought the government position on the swearing-in of Resham Chaudhary who was elected to the House of Representatives.
During the meeting, RJPN leaders urged the prime minister to withdraw cases filed at the court against the RJPN leaders during the Madhesh movement.
The meeting comes at a time when the RJPN is hinting at withdrawing its support to the Oli-led government saying that the government has failed to meet their demands. The party has blamed the government for failing to amend the constitution and withdraw the cases filed against party's cadres at the court who were arrested during the Madhesh movement.
Chairman of the RJPN presidium, Rajendra Mahato, said that the meeting was convened at the request of Prime Minister Oli.