New Dharahara will depict history and modernisation: PM Oli
December 27, 2018 | 9:31 pm&nbsp&nbsp&nbsp&nbsp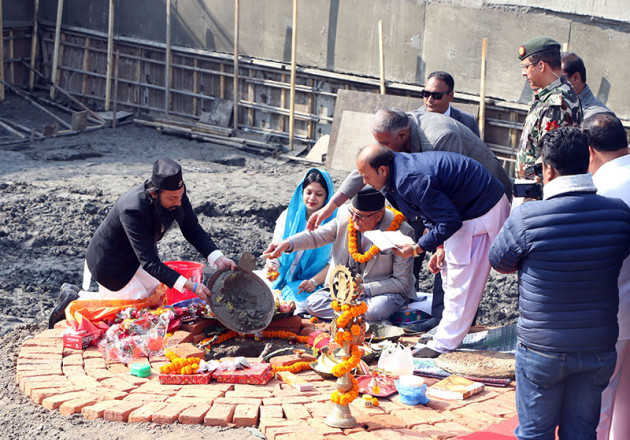 Kathmandu / Dec 27: Prime Minister KP Sharma Oli has said that the reconstructed 'Dharahara' would be a depiction of both history and modernisation.
Addressing the foundation-stone laying ceremony for the reconstruction of Dharahara, organised by National Reconstruction Authority (NRA) here today, Prime Minister Oli said that the government was active in development related constructions. He added that laying the foundation of Dharahara was part of the development construction taking place in the country.
"Our Dharahara was damaged time and again. We will build the new Dharahara similar to the previous one. Our ancient civilisation and uniqueness must be protected," the Prime Minister was quoted in Rastriya Samachar Samiti.
PM Oli shared that the new Dharahara would be child and senior-citizen friendly and there would be enough parking space in its premises.
He said, "Many quake-damaged heritages have already been reconstructed." Recalling that he took initiatives for reconstruction of Dharahara in the past, PM Oli said, "Now the reconstruction of Dharahara will not be halted in any pretext."
PM Oli further argued that reconstruction of historical monuments was essential to increase the aesthetics of archaeologically rich Kathmandu.
NRA CEO Sushil Gyawali assured that the uniqueness of Dharahara would be kept intact while reconstructing a modern Dharahara.
Likewise, Kathmandu Metropolitan City (KMC) Mayor Bidya Sundar Shakya pledged support on behalf of KMC for reconstruction of Dharahara while drawing attention towards the air pollution that could be caused during its reconstruction. He also urged the concerned agencies for timely completion of Dharahara.
Manager of the construction company Raman Mahato shared that reconstructed Dharahara would stretch across 42 ropani and would be 22-storey and 72 metres tall. The construction cost is estimated at Rs 3.48 billion and it is expected to be built within two years.
The reconstructed Dharahara will feature a new garden, museum, colourful fountains, an exhibition hall and parking space.
Attending the programme were Minister for Home Affairs Ram Bahadur Thapa; Minister for Foreign Affairs Pradeep Kumar Gyawali; Minister for General Administration and Local Development Lal Babu Pandit; Minister for Culture, Tourism and Civil Aviation Rabindra Adhikari; Minister for Industry, Commerce and Supplies Matrika Prasad Yadav; Governor of Nepal Rastra Bank Chiranjivi Nepal; along with people's representatives.