Climate change held responsible for early blooming of rhododendron
December 28, 2018 | 8:51 pm&nbsp&nbsp&nbsp&nbsp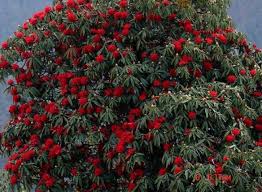 Jajarkot / Dec 28: Rhododendron — the national flower of Nepal — normally blossoms in the months of Fagun-Chaitra (mid-February to mid-April).
However, the flower has blossomed earlier in the month of December which is apparently due to climate change effect.
Experts have stated that the timing of rhododendron blossoming varies as per the species and place. The rhododendron which grows at an altitude ranging 1,300 metres to 3,200 metres from the sea level generally blooms in the months of Fagun and Chaitra but it has now flowered in Mangsir and Poush, said the local knowledgeable persons.
Climate change refers to the change in average weather condition during the interval of three years. Rise in sea level, increase in the earth's temperature and irregularities in rainfall patterns are caused by changes in climate. Owing to the climate change, the average earth temperature that was recorded at 15.0 degrees Celsius in 1915 had increased to 15.20 in 1945 and 15.80 in 2000.
According to climate change experts, the rhododendron which used to flower in Fagun has bloomed earlier in Mangsir-Poush with the rise in global temperature.
Nepal is the fourth most vulnerable country to climate change impact. Nepal has adopted climate change policy in 2011 and has placed several initiatives and mechanism to address the issues of climate change. RSS