Tharu women becoming self-sufficient through commercial vegetable farming
December 29, 2018 | 8:35 pm&nbsp&nbsp&nbsp&nbsp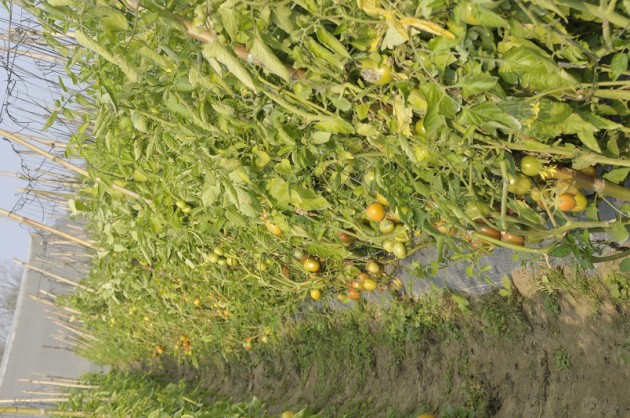 Dang / Dec 29: Tharu women of Dhamkapur of Tulsipur sub-metropolis-15 have gradually started becoming self-sufficient through commercial vegetable farming.
Syani Chaudhary, 42, is one among them who has already established her identity as a successful woman farmer in the community. She is into commercial coriander cultivation for the past 13 years, which is paying her good as she saves Rs 400 thousand annually from the sale of green coriander leaves alone.
She is seen reaching the people's doorsteps since early in the morning carrying a chhituwa (a small basket) full of produces. As she said, her income from the supply of produces in a period of one month over the last Tihar festival was Rs 150 thousand. Though she has been doing vegetable farming for the past 17 years, she started its commercial cultivation 12 years ago. Commercial cultivation of coriander of local variety spreads on an area of 10 kathha (one kattha is equivalent to 3,645 sq ft) of land.
She harvests produces twice in a year—one is for seasonal and another for off-seasonal. She has been already able to purchase a plot of land (17 kattha four dhur (one dhur is equivalent to 182.25 sq feet).
Similarly, Rekha Chaudhary, 50, of the same locality, is another successful women farmer in the community. She has grown vegetables like Chamsur, Palungo, cabbage, and tomatoes on 15 kathha of land.
She every morning walks up to the Tulsipur bazaar carrying the basket full of fresh vegetables to find her probable customers.
The Chaudhary family was initially in the traditional paddy cultivation and decided to switch to the vegetable farming five years ago in the hope of making a good income. "It needs hardship, but the return is quite good than of from the paddy farming," she shares. Her annual income is Rs 300 thousand. But She has so far got no opportunity to get training on vegetable farming.
Another woman from the same village, Rajapati Chaudhari, 40, has also become self-reliant with commercial vegetable farming. She is growing vegetables on 16 kattha of land which makes the income of Rs 350 thousand every year. With this, she has been able to afford her two children's higher study of agriculture.
Cabbage, cauliflower, tomato are some vegetables that grow on the field she cultivates. All on foot, she arrives at Tulsipur bazaar every morning with the vegetables. "Tomato is cheap but cauliflower is sold at Rs 50 per kg," she shares exuding happiness.
She hopes the facilities of irrigation, fair price, and marketing, easy availability of improved seeds and pesticides and occasional training would help her augment farming and income.
Deputy Mayor at Tulsipur sub metropolis, Maya Acharya, informed that a huge building for the vegetable market was being constructed at Tulsipur. RSS