Govt will bring framework of digital Nepal within a month: Minister Banskota
December 29, 2018 | 8:35 pm&nbsp&nbsp&nbsp&nbsp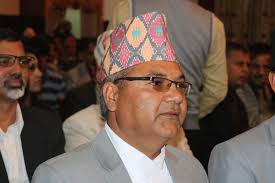 Kathmandu / Dec 29: Minister for Communications and Information Technology, Gokul Prasad Banskota has vowed that the framework of a digital Nepal that the government had resolved to would be brought within a month's time.
Opening the 25th annual general meeting of the Federation of Computer Association Nepal (CAN Federation) here today, he said a five-year programme would be formulated based on the framework of digital Nepal for materializing the national goal of prosperity through maximum utilization of technology.
He said the risks and aberrations have equally increased with the growing accessibility and effectiveness of technology and that its relevance would be only when we can take benefit through its proper use.
"Only access to technology is not important but what we have achieved through its utilization is. When it teaches skills and leads to production growth in society only then can we consider technology to be successful and being close to human life; however, its misuse and anomalies should be removed," the Communications and Information Technology Minister opined.
He stressed that technology should be under the control of humans and it should make human life easier. "It is the same technology that can annihilate the whole world at a press of a switch. So, technology should make life easier but it should never win over humans. Technology should be such that it could be invented and used as per the need."
Minister Baskota assured that the Electronic Transaction Act will be made relevant.
According to him, adequate attention should be given to maximum use of computer technology to modernize society and cater advance education to students. It helps in reducing the digital divide.
On the occasion, FNCCI Vice Chairman Umesh Lal Shrestha also said technology could help boost development and pave way for prosperity.
CAN Federation Chairman Hemant Kumar Chaurasiya viewed that country should be headed to prosperity by materializing the concept of digital Nepal. RSS