Govt infringing on press freedom, blames Deuba
January 21, 2019 | 9:27 pm&nbsp&nbsp&nbsp&nbsp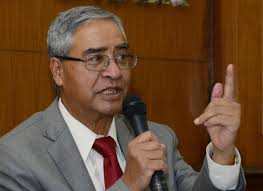 Lamjung / Jan 21: Nepali Congress (NC) President Sher Bahadur Deuba has blamed the incumbent government for weakening the democracy by infringing on the press freedom.
Speaking at the sixth district convention organized by the Nepal Press Union, Lamjung District Chapter in Lamjung today, leader Deuba further claimed that the government had infringed the judicial sector to save the culprit.
The former Prime Minister was hinting at the Nirmala rape-and-murder case and asserted, "The government has destroyed all the evidence of the incident to save the culprit. The government becomes a bystander as the cases of violence and murders were rampant in the country."
Similarly, NC central committee member and former minister Dr Ram Sharan Mahat hit out at the incumbent government saying that it only talked but did not walk the talk when it came to development works.
Mahat claimed that around 90 percent of the national projects were conceived and forwarded during the NC-led government. He ranted, "The communists give big talks and they don't walk the talk. They take credit of the good works carried out by others."
Likewise, another central committee member Dil Bahadur Gharti echoed with former PM Deuba and reiterated the incumbent government had interfered in the parliamentary system of government.
Gharti urged one and all to be united against the totalitarian that he claimed the incumbent communist government was going to introduce.
NPU President Badri Sigdel shared that a unification process in the NPU was undergoing hoping that it would inspire the factional politics in the NC to come to an end and make the NC more unified and indivisible. RSS