Prime Minister Oli says media plays vital role to strengthen democracy
January 23, 2019 | 9:31 pm&nbsp&nbsp&nbsp&nbsp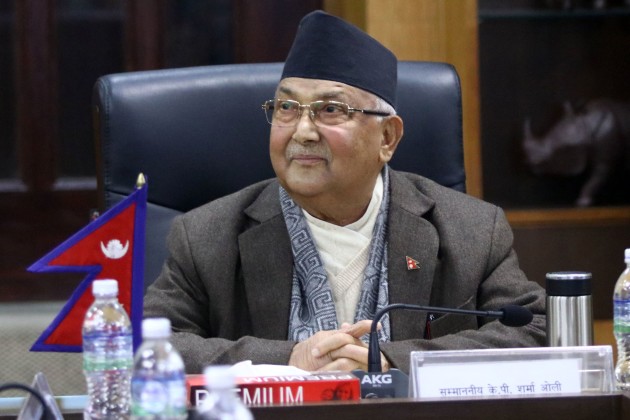 Kathmandu / Jan 23: Prime Minister KP Sharma Oli has said that media plays an instrumental role to strengthen democracy in the country.
Speaking during a panel discussion session, 'Shaping the Future of Democracy' during World Economic Forum in Swiss mountain resort Davos, Oli said that press plays a crucial role to bring prosperity and development in the country and to educate the general public.
He said the press, however, should give authentic information to the people and should act responsibly.
"I have normal relationship with the press and there should be normal relations with the press in democracy," he said. "But the press is controlled by the government in an autocratic system."
"We have press freedom in Nepal and press and free and independent," he further said.
Saying that yellow journalism in not good for a country, Oli said it can distort facts and mislead the people.
"I have been criticised by the media sometime as they want development in a short span of time," he said, highlighting that his government has brought so many changes in the country in a short period.
He said the people's aspirations have been increased and the press has also similar expectations from the government as it has brought many development changes in a short period.
"People should think that development process is not a magic, it takes time," the Prime Minister said.
He said the government under his leadership has no intention to muzzle the press or put it under restriction. "There is no doubt that press is comparably free in Nepal," he said.
He went on to say that press should not give false news and harm the lives, prestige and business of the people in the name of freedom.
"Press should be careful about all these things to create a civilized society," Oli said.
Meanwhile, he said that Nepal is a democratic country and believes in democracy, saying that everything is under constitution and law in democracy.
Democracy is a system and should be a system of the people and for the people, he said.
"We have brought tremendous changes in the field of democracy and we have abolished autocratic system and established democracy in the country," he said.
There federal democratic republic in Nepal and the present government are elected by the people, Prime Minister Oli said. He further said though the elections were held not during his premiership, it were conducted in a free, fair, impartial and peaceful atmosphere.
"We have Prime ministerial system, executive power rests with the Cabinet," he said, adding that there is no question of centralising the power.
"I fought for democracy for more than half-a-century and spend many years in prison for democracy. So, I don't want to be a ruler but servant of the people and want to serve the country," said Oli.
"We promulgated the constitution in 2015, we have a full-fledged democratic system, and there is separation of power, checks and balance, and independent judiciary," he said.
Saying that Nepal has a bicameral parliament, he said that Nepal does not want pretentions and excuses.
"We have to bring changes in the life of people, and should also focus on bringing changes in the economic field," he said, adding, "We want to concentrate on good governance and economic development to achieve our motto "Prosperous Nepal and Happy Nepali."