Japan, Nepal to work together in agri sector
January 25, 2019 | 9:45 pm&nbsp&nbsp&nbsp&nbsp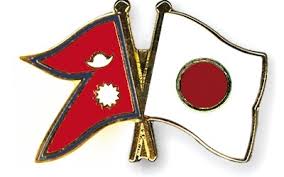 Kathmandu / Jan 25: Japan has agreed to enter into cooperation on developing Nepal's agricultural sector for the first time. Japan has been supporting Nepal in various sectors including education, infrastructure, civil aviation and hydropower.
A high-level delegation led by Takami Nakada, deputy director-general for International Affairs at the Minister's Secretariat, Ministry of Agriculture, Forestry and Fisheries of Japan, is in Nepal to study the country's agriculture sector. They arrived on January 22.
"It's the beginning of further bilateral cooperation in Nepal's agriculture sector," Takami told reporters here on Thursday.
"It has not been decided the areas of cooperation.
But it may be in horticulture, vegetables, paddy and other cash crops or even in food processing areas," he said. The delegation made a field visit to a number of areas in Kavre. He said that farmers are seeking support to increase their productivity.
The delegation is expected to prepare a report in areas where they can work together, including the Japanese private sector.
"If Nepal can produce quality crops, they will be able to access the Japanese and global market," said Takami.
The request for cooperation in the agriculture sector was sought by Nepal during Foreign Minister Pradeep Gyawali's visit to Japan in November last year. Subsequently, Japan's foreign minister, Taro Kono, visited Nepal in January at the invitation of his Nepali counterpart Gyawali.
Currently, under the Japan International Cooperation Agency's Official Development Assistance loan project, the Japanese government has been running four projects, namely Nagdhunga Tunnel Construction Project, Emergency Housing Reconstruction Project, Emergency School Reconstruction Project and Tanahu Hydropower Project which are in the phase of evaluation.
Last year, the Civil Aviation Authority of Nepal and the Japan International Cooperation Agency signed an agreement for the implementation of a Rs1.51 billion project to improve safety and efficiency of air transport in Nepal.