Former DPM and NCP (NCP) leader Adhikari cremated with state honours
March 3, 2019 | 8:50 pm&nbsp&nbsp&nbsp&nbsp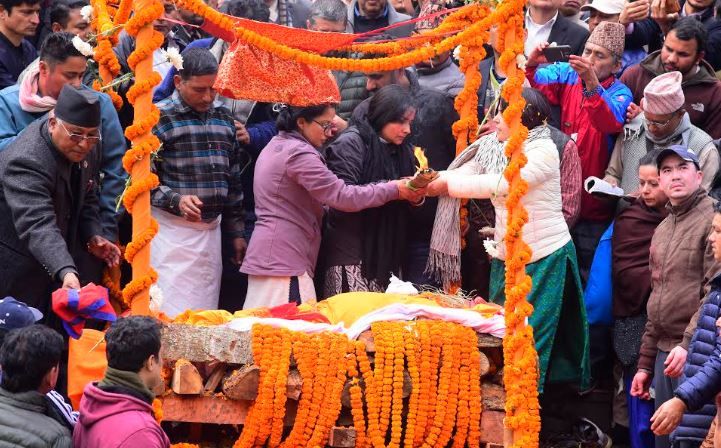 Kathmandu / Mar 3: Final rites of former Deputy Prime Minister and Nepal Communist Party (NCP) leader Bharat Mohan Adhikari have been performed with state honours at Pashupati Aryaghat on Sunday. He was 82.
Daughters Luna, Lima and Lija lit the funeral pyre this afternoon.
Late Adhikari's wife Sabita Adhikari, NCP's general secretary Bishnu Poudel, leader Janardan Sharma, Nepali Congress leaders– Ram Sharan Mahat, Minendra Rijal and several party cadres reached the Pashupati Aryagaht to pay their last tributes to the late leader.
A contingent of the Armed Police Force presented a guard of honour to the late leader. A minute of silence was also observed on the occasion.
Issuing a press statement today, NCP (NCP) said it will hoist the party's flag at half-staff and mourn for three days.