Traffic police tighten screw on errant cabbies
March 7, 2019 | 9:46 pm&nbsp&nbsp&nbsp&nbsp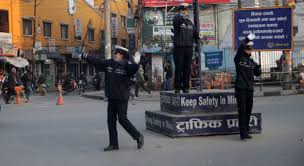 Kathmandu / Mar 7:As many as 46 cabbies have faced the music today as traffic police have intensified checking to bring the errant cabbies under the law in Kathmandu Valley of late.
The Metropolitan Traffic Police Divison (MTPD) said cabbies refraining away from going in a metre system, operating in malfunction metre system and not repairing it in time have been taken under control from various locations on Thursday.
MPTD have appealed to the general public to register their complaint by dialling hotline 103 if the cabbies charge them an exorbitant fare, decline to take service seekers to their destinations.
Besides that, the complaints can be sent via SMS in 985129510, a message at MTPD facebook page and tweet @valleytraffic, MTPD said.