Govt, CK Raut's AIM sign 11-point agreement; PM and Raut praise each other
March 8, 2019 | 8:54 pm&nbsp&nbsp&nbsp&nbsp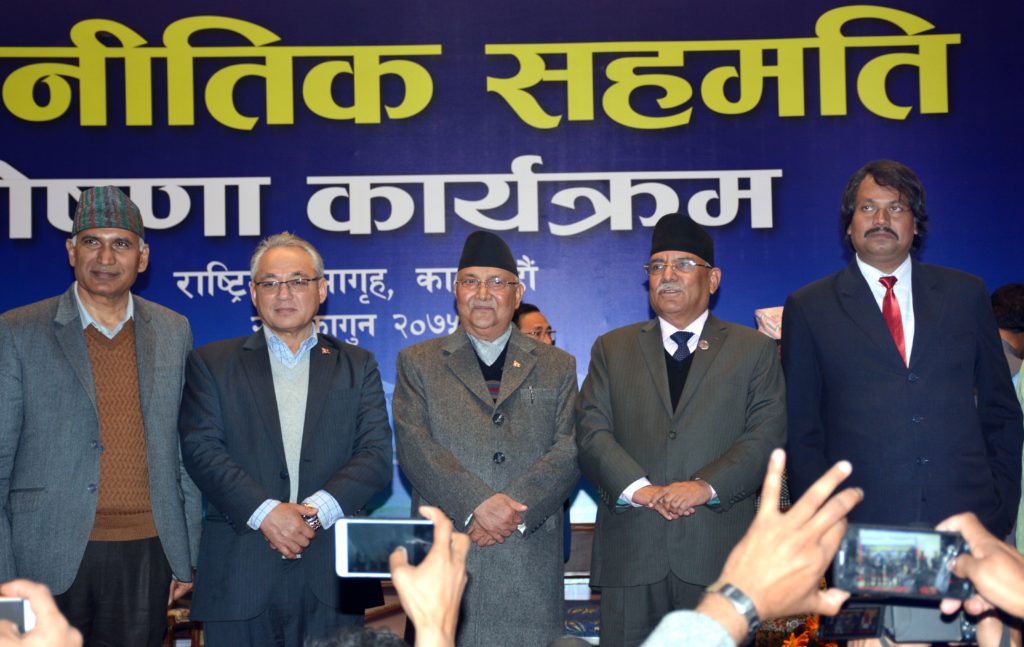 Kathmandu / Mar 8: The government and CK Raut-led Alliance for Independent Madhesh (AIM) has signed an 11-point agreement, thereby ending the latter's secessionist movement over the past few years.
The agreement was signed by Home Minister, Ram Bahadur Thapa and AIM's CK Raut at Rastriya Sabha Griha. The agreements state that the state would compensate the cadres of Raut's party and address the demands of the Madesh among others.
"We were concerned over the past few years, but time has now come that we head towards peace and development," Raut said.
Speaking at a Rastriya Sabha Griha event, Raut stressed on the need for ending all violent means and resolve every issue that comes our way by means of peace. "Peace and non-violence makes way for change."
Stating that people of Nepal, their rights and their needs are paramount, the now-former secessionist said, "This peaceful transition is a matter of happiness for all Nepalis and it should be understood and valued." He further thanked Prime Minister KP Sharma Oli, along with former Prime Ministers Baburam Bhattarai, Late Sushil Koirala, Pushpa Kamal Dahal and Sher Bahadur Deuba for making this peaceful landing possible.
Later, Prime Minister took the stage and praised CK Raut for his immense ability to understand and make firm decisions on matters of national concern. "I had previously seen such similar qualities in former Prime Minister and party co-chair Pushpa Kamal Dahal."
"You are not just a technocrat but also a thinker. I am glad you decided to change your ways which were of course a little threatening to us."