'Community schools to be transformed into quality learning centres in next 10 years'
May 3, 2019 | 10:07 pm&nbsp&nbsp&nbsp&nbsp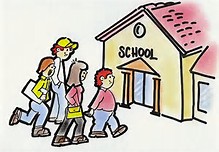 Kathmandu / May 3: Minister for Education, Science and Technology, Giriraj Mani Pokharel has said that the community schools would be transformed by leaps and bound in terms of their quality within the coming 10 years.
Minister Pokharel said so while addressing to an interaction program organised by Education Journalists' Group here on Friday.
The Education Minister shared on the occasion that the draft of the National Education Policy has been presented in the Council of Ministers on the basis of the suggestion given by the high-level National Education Commission.
Stating that works are on to bring the federal education bill on the basis of the commission's report, he said, "The community schools would be transformed in leaps and bounds in terms of their quality within the coming 10 years." According to him, the Federal Education Bill will mention about the individual and concurrent rights of the center, states and local levels regarding education. He added that a separate new law would be enacted for higher education. The commission has incorporated suggestions and recommendations for transformation in education to take the country ahead towards the socialism-oriented country and for transforming the private schools into service-oriented institutions in the next 10 years.
The Education Minister is the chairperson of the commission and it had handed over its report with recommendations to the Prime Minister on January 15, 2019. The report is not yet made public by the government. Replying a query as to why the commission's report has not been made public, Minister Pokharel said, "The commission has completed its work in a prestigious manner taking six months. The report is a sort of study and suggestion.
There is no denying that it should not be made public. The Council of Ministers decides on this." He said consultations are being held with the Ministry of Finance regarding allocating 20 per cent of the total national budget to the education sector although it would also not be sufficient for the management of teachers, qualitative education and empowering the local levels.
The education minister acknowledged that the current budget allocated for education was inadequate for implementing the international obligations and the government's commitment. Asked if the private schools were closing down in the next 10 years, he said, "It is not our view that the standard of the community schools goes up only by closing the private schools. The private schools should function from a service perspective. They should provide scholarships determined by law. The standard of the community schools should improve." RSS