Finance committee collects suggestions on budget
May 9, 2019 | 9:30 pm&nbsp&nbsp&nbsp&nbsp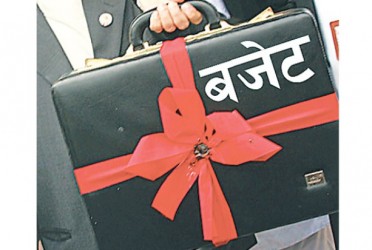 Kathmandu / May 9: A group of lawmakers, economists, industrialists, businesspersons and journalists has given suggestions for the upcoming budget. At a pre-budget session organised here Thursday in the central capital by the Finance Committee of the House of Representatives, they submitted a 61-point recommendation letter related to financial activities to the committee.
The committee altered the previous practice of seeking verbal recommendations from experts on budget by collecting written ones. The recommendations would be submitted to the government to facilitate budget-making and for the development of the financial sector of the country, said Krishna Prasad Dahal, president of the committee.
The meeting attendants also called for the upcoming budget to focus on materialising the goal of 'Prosperous Nepal, Happy Nepali' and emphasize domestic production by utilising available resources. They recommended strengthening and stabilizing economy and creating job opportunities. Production of local products emphasized The team emphasized on manufacturing of domestic products, and competitive and scientific tax system rather than revenue-oriented system. They viewed that it was imperative to reduce the trade deficit by increasing capital expenditure, creation of jobs and modernization of agriculture system.
Moreover, they underscored the need for one-door policy to attract foreign investment and implementing integrated tax system in all three levels of government in the country. Governor of Nepal Rasta Bank Dr Chiranjibi Nepal drew the attention of other participants towards the trade deficit that currently stand at Rs 887 billion. Urging concerned ones to think about achieving financial stability, he suggested to take into account increasing capital expenditure by increasing domestic productions.
Similarly, FNCCI Vice-President Kishor Pradhan claimed that the economy of the country would make stride and agriculture, he argued, would be the factor contributing for economic growth. He drew attention towards 'contract farming' given the lax implementation of the programs in the past. Likewise, Nepal Chamber of Commerce Vice-President Kamalesh Kumar Agrawal spoke of the need to encourage foreign investment. He focused investment on physical infrastructures and utilization of natural resources.
The participants rued that development works had not picked a desired pace due to implementation of the programme without visionary action-plans, lack of capital expenditure, import-oriented economy. They univocally pointed out the need to streamline these areas and develop competitive advantages for the economy to make stride. Participants at the pre-budget discussions were Acting President of the Federation of Contractors Association of Nepal (FCAN), Nicolas Pandey, Kiran Kumar Shrestha from the Bankers Association, President of the National Cooperatives Federation of Nepal, Keshav Badal, President of Nepal Charter Accountants Association, Jagannath Upadhyay, and other entrepreneurs offered recommendations to promote locally produced goods. RSS