PM leaves for Vietnam, Cambodia; DPM Pokharel to look after PM's portfolio
May 9, 2019 | 9:29 pm&nbsp&nbsp&nbsp&nbsp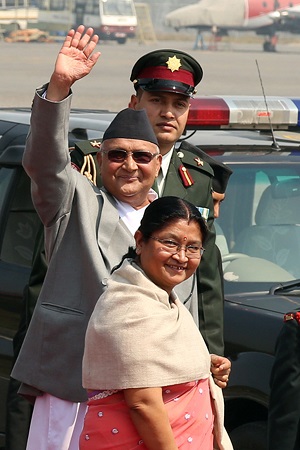 Kathmandu / May 9: Prime Minister KP Sharma Oli has left for the visits of Socialist Republic of Vietnam and the Kingdom of Cambodia on Thursday. PM Oli is visiting Vietnam at the invitation of Vietnamese Prime Minister Nguyen Xuan Phuc, and visiting Cambodia at the invitation of Cambodian Prime Minister Samdeh Akka Moha Sena Padei Techo Hun Sen.
PM Oli is paying the official visit to Viet Nam on 9-13 May and to Cambodia on 13-15 May. PM Oli will be accompanied by his spouse, Radhika Shakya. According to the Ministry of Foreign Affairs, the PM is scheduled to hold delegation level bilateral talks with his Vietnamese counterpart Phuc.
During the visit, the two countries will sign some agreements and memorandum of understandings to further promote bilateral relations. During the visit to Cambodia, PM Oli will hold delegation level bilateral talks with his Cambodian counterpart Hun Sen. Following the official talks, the Cambodian PM will host an official dinner in honour of PM Oli and his delegation. He will also meet with the President of the National Assembly and the President of the Senate. He will also address the business meeting in Phnom Penh.
The members in the delegation of the PM include Minister Foreign Affairs Pradeep Kumar Gyawali, Chief Advisor Bishnu Prasad Rimal, Foreign Affairs Advisor to the PM, Dr Rajan Bhattarai, Members of the Parliament, high-ranking government officials, elected representatives from local bodies as well as representatives of the private sector and media persons.
DPM Pokharel to look after PM's portfolio
President Bidya Devi Bhandari has assigned Deputy Prime Minister Ishwar Pokharel to look after the daily administrative works of the Prime Minister during the absence of Prime Minister KP Sharma Oli, who is on a foreign visit.
The President has assigned this responsibility to the DPM and Defence Minister Pokharel on the recommendation of the Prime Minister, the Office of the President stated in a communiqué.
Prime Minister Oli left here today on an official visit to Viet Nam and Cambodia.