Heat wave taking toll in western Tarai districts
May 10, 2019 | 9:10 pm&nbsp&nbsp&nbsp&nbsp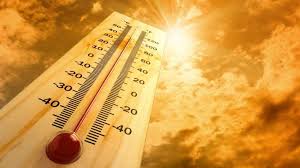 Banke / May 10: A heat wave has affected life in some western Tarai districts including the city of Nepalgunj. Nepalgunj recorded highest maximum temperature of 43 degrees Celsius so far on Thursday, according to the Department of Meteorology and Hydrology, Nepalgunj.
Minimum temperature of the city was 37 degrees Celsius on Sunday.
Lack of rain so far since the onset of summer and a heat wave has contributed to the problem, said Yojana Bastakoti of the Department. As a result, the people have been affected in numerous ways. The people including children have taken ill, and movement of the people has been largely restricted.
Daily wagers have been affected the most to go to work for sustenance. Government offices have witnessed a slim presence of service seekers, and vegetable and fruit farming has been affected. There is a risk of a fire as well.
There is increasing number of the people suffering from rashes, dysentery, fever, diarrhoea and typhoid at local hospitals, said doctors. Doctors have suggested maintaining caution and drinking enough water.