Gorkhaland tells its tales
May 18, 2019 | 5:38 pm&nbsp&nbsp&nbsp&nbsp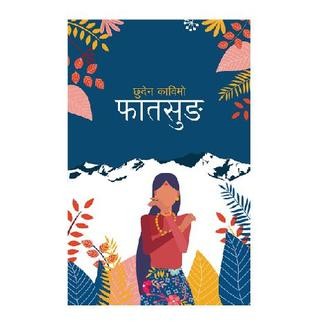 Shikha Neupane / Kathmandu: 'Alu kaati tarkari tamalai, nachalaunu Gorkhali aamalai'
This line from a song in Chuden Kabimo's debut novel Faatsung can be seen as a rallying cry for the Gorkhaland movement of the 80s. But the rhyme is more than an activist's call to arms–in Faatsung, it sums up the aspirations–and alienation–of the people of Darjeeling.
A story about a generation fighting for a dream they were once shown, Faatsung is a story we are all familiar with. The book can be viewed as an extension of the writer's critically-acclaimed previous work (1986), a collection of stories, for which he was awarded the 'Yuwa Sahitya Academy Award' in 2018 by the Government of India. So we've heard this tale before, but this time, Kabimo gives us characters we can empathise with, thus propelling the story towards something that feels more personal.
Faatsung unfolds when Ripden and his best friend, the narrator, attempt to find out what happened to Ripden's father, Norden, during the Gorkhaland movement. Through Nashim, Norden's friend, a struggle for identity, protest, hope, helplessness and political manipulation unfolds.
A novel about ordinary people who have not-so-ordinary dreams, Faatsung takes readers on a ride through Darjeeling–Malibung, Pubung and Kalibung–and to the stories that lie there. Inspired by true events, the focal point of the story remains characters like Norden, Naashim, Surya, and Chief, all of whom are actively involved in the Gorkhaland movement. The novel is not a single story–it is composed of multiple storylines involving identity, justice, rights, politics, and freedom, all told through characters that are alive.
Through Kabimo's narration readers get to be active participants in the events that unfold, witnessing every moment first hand. Kabimo puts readers into the shoes of the protagonist and makes them a part of the struggle, so that we feel all of the anger, grief, helplessness and frustration that the protagonist feels, integrating us readers into the Gorkhaland movement, no matter where we might be from.
Kabimo also writes dialogue in such a way that it helps depict the nature of the characters. Nashim, who is actively involved in spreading information about the andolan, asks a question, "Yo andolan chahi kina vako? Ke ho julush"–why is this revolution happening? What is this procession?. The answer he gets from Surya is that Nashim is not a leader so he cannot know everything. This speaks to how unjust social hierarchy is, and how it strips an individual of their free will.
The narrative too defines the characters' naïve and gullible natures. Norden is committed to burning Article 7 of the Nepal-India Treaty of Peace and Friendship since it has been commanded from on high, unaware of what's written on it. The characters reveal their own story about how they end up getting involved with Gorkhaland Movement. For instance, Ramprasad decides to join the Gorkhaland andolan after he hears a speech which claims that in the future Gorkhaland, even a pig will eat 'nuniya', a variety of prized rice, and there will be a swimming pool in every household.
As the novel moves towards ever-more powerful stories, more characters are introduced. Rachela, Ramprasad and Nepte all contribute to the narrative in such a way that the storytelling intensifies. But the introduction of new characters does not always seem to work, as it also makes us wonder what happened to the others. For instance, Ripdani, Norden's love interest, is present but we never get to hear her side of the story.
What the novel takes aim at seems to be the politics that emerged out of the Gorkhaland movement in late 80s, which began in 1986 and came to a seeming end with an agreement with the Darjeeling Gorkha Hill Council in 1988, although the movement would continue well into contemporary times. The novel attacks the political culture that developed after that agreement and the leaders who came out of the agreement, hopping on the back of the Gorkhaland cause to propel themselves to power.
The political agendas during the movement were constructed in such a way that they compelled the public to believe in them, no matter what. However, as many activists began to realise that their actions don't actually influence the final decisions being made, they felt betrayed. Faatsung sums up this political and social movement.
But the novel's true greatness is in its underlying themes of friendship, a longing for belonging, and an insatiable desire to cultivate opportunities without discrimination and oppression–all themes not too alien to the Nepali people. Various events in the novel will remind Nepali readers of the Janaandolan and the many Nepali movements that provoke sympathy for the Nepali-origin populace of Darjeeling who are still fighting for recognition as Gorkhaland. Even some phrases will remind Nepali readers of our own 'Gaun gaun bata utha, basti basti bata utha', such as 'Binduli tika ke tika, sindur ko tika ke tika, mato ko tika raja tika, mato ko tika rani tika.' (This couplet essentially states that the soil of the motherland is what should adorn one's forehead, not accessories like bindis and sindur.)
Kabimo embraces his Darjeeling heritage, and the prose in Faatsung is uniquely flavoured with Darjeeling lingo. Kabimo has performed the near-impossible feat of realising the dreams of an entire population into a book, of grasping decades of armed resistance through words, and justifying the blood of thousands through ink.
Faatsung is a story well told, one that does not fail to evoke human emotions intricately bound with a movement for recognition, identity, and rights.
Book: Faatsung
Author: Chuden Kabimo
Pages: 150
Publisher: FinePrint
Price: Rs 300 (Source: The Kathmandu Post)