Editors issue joint-statement, demand withdrawal of Media Council Bill
May 23, 2019 | 9:50 pm&nbsp&nbsp&nbsp&nbsp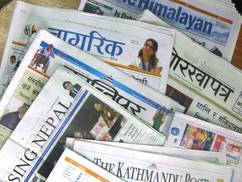 Kathmandu / May 23: Prominent editors from Nepali Press fraternity have today issued a joint statement demanding the withdrawal of the much controversial Media Council Bill. The statement issued by 21 editors associated with various publications reads that the bill presented by the government to the Parliament without adequate consultation with concerned stakeholders should be withdrawn for further revision. Additionally, the group has suggested the government to undergo consultations with the stakeholders and public.
"We, the editors, are committed to defend the right to full freedom of press as guaranteed by the Constitution of the Federal Democratic Republic of Nepal. The Media Council Bill is against the essence of the Constitution of Nepal while it challenges our democratic rights to freedom of expression and freedom of press – Nepali journalists have been working hard to safeguard which for decades," the statement reads.
Furthermore, the editors extended solidarity to the Federation of Nepali Journalists and other related units who have been agaitating against the bill which looks to constrict freedom of press.
Stating that they are fully aware about the malpractices prevalent in this field, the editors clarified that they are absolutely clear about the need for a mechanism to address and check such ill-practices.
Akhilesh Upadhyaya (The Kathmandu Post, former E-i-C), Anup Kaphle (The Kathmandu Post), Ameet Dhakal (Setopati), Arune Baral (Online Khabar), Hari Bahadur Thapa (Annapurna Post), Kosmos Biswokarma (Kathmandu Press), Kiran Nepal (Himal Khabar), Kunda Dixit (Nepali Times), Krishna Jwala Devkota (Naya Patrika), Gunaraj Luintel (Nagarik), Dil Bhushan Pathak (Himalaya Television, former News Chief at Kantipur TV), Narayan Wagle (Kantipur), Purna Basnet (Nepal Khabar), Prakash Rimal (The Himalayan Times), Prateek Pradhan (12 Khari), Prashant Aryal (Kantipur Television), Yuvaraj Ghimire (Desh Sanchar), Rajendra Dahal (Shikshak), Shiva Gaunle (Centre for Investigative Journalism), Sudheer Sharma (Kantipur, former E-i-C), Subhash Ghimire (Republica) – jointly released the statement.
The bill which was presented at the Parliament on May 8 without adequate consultation with stakeholders, looks to give absolute powers to a the self-regulatory body overseeing the press. According to journalists and activists, the 'sudden' move by the government has given ample space for concerned parties to cry foul given that this could pave way for government to directly control and or attack the Nepali press.