Journalism should be for promotion of national unity: leader Dahal
May 27, 2019 | 9:50 pm&nbsp&nbsp&nbsp&nbsp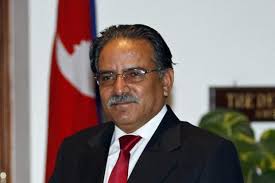 Kathmandu / May 27: Nepal Communist Party ( NCP) chair Pushpa Kamal Dahal has said the right to freedom guaranteed by the constitution is not of an anarchic nature. In his address to a program organized today by Press Organisation Nepal in commemoration of the 17th memorial day of the journalist, litterateur, and martyr Krishnasen 'Ichhuk', the former Prime Minister said freedom and discipline were interrelated and freedom should not be anarchic.
The chair of the major ruling party and lawmaker pledged that no laws and acts would come hurting the spirit of constitution which stands in favor of freedom of the press. He was of the view that state should further promote the fields of journalism and literature and no ideology and assumption was expected to weaken the dedication and efforts towards the strengthening of national unity and independence, adding that journalism capable of weakening national unity could not be supported. He cited that the contribution of Krishnasen ' Ichhuk' to the elevation of Nepali literature, culture and journalism was incomparable, remembering him as the ' versatile personality'.
He was a political fighter, a dedicated journalist and an honest person, Dahal added. He further said that two parties were united to form the present NCP to find a clear political road map ahead and with the hope of getting the right leadership capable of creating new history.
On the occasion, Minister for Communications and Information Technology Gokul Prasad Baskota said the government was committed to regulating the media rather than controlling them. Minister Baskota refuted that press freedom in Nepal was not at stake instead it was being prospered. "We introduced a proportionate advertising system to propel and prosper the Nepali media. It is a symbol of prosperity for the press in Nepal."
According to him, media was not a cottage industry but a strong medium and a mirror to the society. He called for a commitment from one and all to turn the dream of Krishnasen 'Ichhuk' into reality. Lauding Ichhuk's audacity, the Minister said, "Ichhuk did not write for an ordinary change. He wrote for a massive change." Minister Baskota asserted that it was a baseless rumor that the Media Council Bill had curtailed press freedom as the government had not taken any initiatives that would violate constitutional values and essence as well as international practice.
Federation of Nepali Journalists (FNJ) chair Govinda Acharya demanded action against the murderer of Ichhuk. He also pressed for an amendment in the Media Council Bill, arguing that there should not any provisions that imposed fine on erring journalists. RSS