Govt not to lift ban on outlawed Biplav-led outfit: Spokesperson Baskota
October 24, 2019 | 10:18 pm&nbsp&nbsp&nbsp&nbsp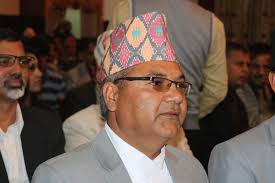 Kathmandu / Oct 24: Spokesperson of the government Gokul Baskota has said that the government will not lift the ban on outlawed Netra Bikram Chand 'Biplav' led outfit.
Baskota, however, urged the outfit to shun violence and come for talks. Speaking at a regular press meet at Singha Durbar on Thursday, he also urged the underground group to enter peaceful mainstream politics by abiding the constitution.
Speaking further, he stated that demand of the release of arrested cadres of the group can't be addressed at any cost until they come up with a peaceful compromise.
On a different note, Baskota, also the Minister for Information, Communication, and Technology said that Nepal wants to maintain a balanced relations with India, China and the United States.
"After the two-day state visit of Chinese President Xi Jinping, Nepal's influence has increased in the global arena," argued Baskota while responding to the question raised by a media person whether China is making inroads in Nepal.