Himalaya Airlines starting direct flights to Beijing from today
October 27, 2019 | 9:56 pm&nbsp&nbsp&nbsp&nbsp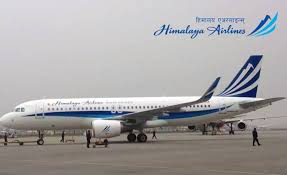 Kathmandu / Oct 27: Himalaya Airlines is starting direct flights to Beijing, China from Sunday.
The airline will depart to Beijing's new airport – Daxing International Airport – at 8:30 am and will reach the Chinese capital at 4:10 pm local time. Himalaya Airlines will use Airbus A320 aircraft with eight business class and 150 economy class seats for the flight.
Earlier, the airline had announced to use Airbus A319 for the flight. But it couldn't materialize due to delay in delivery of the aircraft, according to an official of the airline.
"We will be operating two flights a week – on Tuesdays and Fridays – till November 15. Thereafter, we will also fly to Beijing on Sunday," Ujjwala Dali, head of brand and service improvement department of the airline, told Republica.
According to Dali, the Airbus A320 aircraft will take six hours to reach Beijing. She also added that Himalaya Airlines will induct Airbus A319 aircraft in its fleet in November. The airline currently operates a fleet of three Airbus A320 aircraft. It operates scheduled flights to Abu Dhabi, Dammam, Doha, and Dhaka.
"Along with Beijing, we are preparing to fly to other Chinese destinations like Guiyang, Changsha and Nanchang from November," Dali added.
Himalaya Airline recently signed a new partnership agreement with Tibet Civil Aviation Development and Investment Co Ltd after one of its promoters – Tibet Airlines of China – decided to withdraw from the joint venture with Yeti World Investment of Nepal.
The airline recently unveiled its new brand identity which depicts a soaring eagle through the composition of three 'A' in Himalaya. According to the company, the bird that inhabits the Himalaya range is regarded as a symbol of perseverance and courage and indicates flying higher to reach the skies.