President Bhandari inaugurates 13th South Asian Games amid fanfare
December 1, 2019 | 9:16 pm&nbsp&nbsp&nbsp&nbsp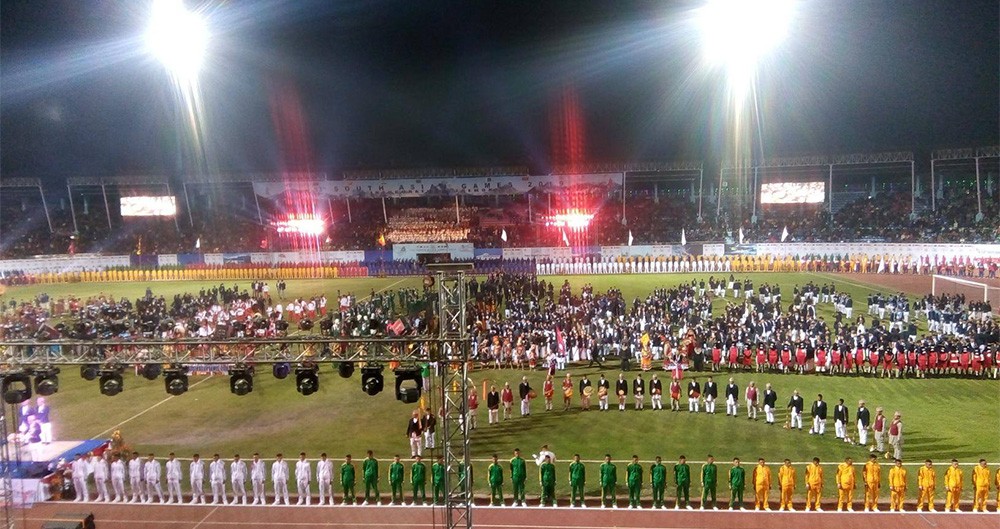 Kathmandu / Dec 1: The 13th South Asian Games (SAG) officially kicked off in the capital on Sunday.
Amid fanfare, President Bidya Devi Bhandari inagurated the sporting event at the Dasharath Stadium, Tripureswor a while ago.
Last time, Nepal hosted the regional game back in 1999. The SAG, also known as the Olympics of the south Asian countries had come to existence from Nepal in 1984, where only five sports viz football, boxing, athletics, weightlifting and swimming were included. Nepal had won four gold medals (two in boxing, one in football and one in athletics), 12 silvers and eight bronze to finish fourth.
In 1999, the SAG returned home for the second time as the eighth edition where Nepal won record 31 gold medals, 10 silvers and 24 bronzes in 12 sports disciplines to finish second in medal tally.
The regional games started at home today defying hundreds of challenges primarily the infrastructure delay which saw the multi-sports even postponed for two times this year.
About 5,000 delegates and athletes for the seven SAARC member countries are scheduled to participate in over 28 sports disciplines (including beach volleyball and 3×3 basketball) for, which will be held in 29 sports venues in three cities. They will be competing for 324 golds, 324 silvers and 487 bronzes.
This is also the first time the country is hosting the Games across three cities: Kathmandu, Pokhara and Janakpur.
Pokhara will host women's football and cricket, archery, badminton, handball, triathlon, beach volleyball and weightlifting while Janakpur will host wrestling. The rest of the events will be held in Kathmandu.
Although the games started today, the volleyball started from Wednesday.
Four times gold medalist Deepak Bista is lighting the torch while another SAG gold medalist Aayesha Shakya will take oath from players' side and badminton coach Deepak Thapa will take oath representing referees.
4,500 Armed Police Force personnel, 1,500 Nepal Army personnel, 1,300 Nepal police, 3,000 students and 4,300 professional Jhaki artists are performing at the stadium. Artists Ananda Karki, Kunti Moktan, Indira Joshi and Satya Raj Acharya are scheduled to sing the SAARC song during the inauguration. The song is composed by Mukunda Sharma while Prakash Gurung has given the music.
Nepal Olympic Committee (NOC) has picked Olympian and weightlifter Kamal Bahadur Adhikari as the Nepal's national flag bearer for the flag hoisting ceremony.
"We have decided to select Adhikari as the national flag bearer based on his sports experience, international medals and his participation in the Olympics," said the NOC in a press release on Saturday.