Nepal leads SA Games medal-table with 23 gold
December 3, 2019 | 10:52 pm&nbsp&nbsp&nbsp&nbsp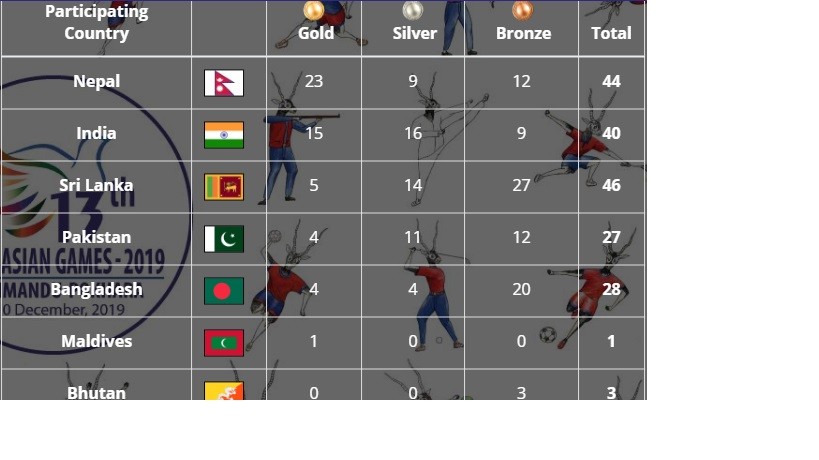 Kathmandu / Dec 03: Nepal has so far pocketed a total of 23 gold, nine silver, and 12 bronze medals in the ongoing 13th South Asian Games being held in Kathmandu, Pokhara and Janakpur.
Eight more gold were secured by Nepal on day two of the South Asian Games bringing the total tally to 44 medals while maintaining its position on top of the medal tally.
Santoshi Shrestha pocketed a gold for Nepal in Women's 10000m race leaving behind Indian and Sri Lankan runners. Shrestha is the first woman athlete to bag a gold for Nepal.
Navin Rasaili bagged a gold medal in Kumite of Karate in 67 kg category at Nepal Karate Academy.
Rasaili left behind his Pakistani opponent by 2 points, becoming victorious at a score of 8-6.
Nepal's Himal Tamata and Laxman Malla respectively won gold and silver for Nepal at Pokhara Stadium in Men's Individual Duathlon Tournament on Tuesday.
The distance for the Duathlon individual event was 5km Run, 20km Bike, and 2.5km Run.
Additionally, Bijay Sinjali won the gold by defeating five other competitors in the Men's Individual category of Taolu in Changquan discipline of Wushu receiving 9.48 points.
Sushmita Tamang bagged a gold in Women's individual category of Taolu in Changquan discipline in Wushu.
Sunita Maharjan defeated her Pakistani opponent and won the gold in Kumite of Karate under 68-kg category with 8-2 points at Nepal Karate Academy in Satdobato, Lalitpur on Tuesday.
Likewise, Kajal Shrestha bagged another gold in Taekwondo under 46-kg category defeating her Pakistani opponent with 50-14 points.
Bir Bahadur Mahara won the gold medal for Taekwondo under 68-kg category defeating his Pakistani opponent with 41-36 points.
Meanwhile, Ganga Ram Kusuwar secured the silver medal in Kumite of Karate under 75-kg category at the same venue.
The National Women's Volleyball team settled for a silver after losing to India in the volleyball finals held here today.