Poverty Rate to drop by Three Per Cent in Five Years: Minister Baskota
December 20, 2019 | 9:43 pm&nbsp&nbsp&nbsp&nbsp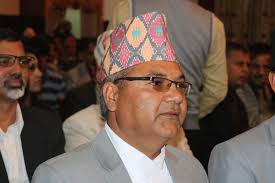 Kathmandu / Dec. 20: Minister for Communications and Information Technology Gokul Prasad Banskota today claimed that the poverty rate of the country would be dropped to 15 percent from existing 18 in the next five years.
"We will bring down the poverty rate to 15 percent in the next five years. This will be possible by linking the workforce with production," he said, announcing plans to modernise agriculture in a speedy way to reduce country's trade deficit and promote resources and limitations on researches.
He was addressing a one-day seminar with the theme of 'quality education: today's need' organised here by the Nepal National Teachers Association, Kavrepalanchowk.
The Minister also stressed the need to link labour with production through education so as to boost national capital.
"We are in the phase of policy-making. It may take time to implement policies and everything will be in order gradually," he said.
He also stressed the need for Nepali human resources to engage in works like clothes production, recycling of products, plumbing, and repair of machinery to be self-reliant. He referred to the criticism of the incumbent government that it has not created job opportunities for the citizens.
Stating that there should be no difference and discrimination between the community and private education, the Minister said education should not be the means of producing two distinct classes, instead it should be focused on producing competitive human resources.
Good administrators, farmers, leaders, doctors and engineers are born through the educational institutions and that is why school should ensure quality education, according to him.
As he said, there would be corruption if teachers failed to fulfill their duties and responsibilities. "Now, a ' performance contract agreement' should be made with head teachers and if bad results came, head teachers should quit the responsibilities; and if this happens, it will surely ensure quality education."
He stressed that teachers should be serious toward the production of human resources as per the requirements of the nation. On the occasion, he shared that 29 schools have so far been rebuilt in Kavrepalanchowk and Rs two billion budget has been allocated for schools here this fiscal year. RSS