CIAA files charge sheet against undersecretary Dhungana and his spouse
January 3, 2020 | 9:09 pm&nbsp&nbsp&nbsp&nbsp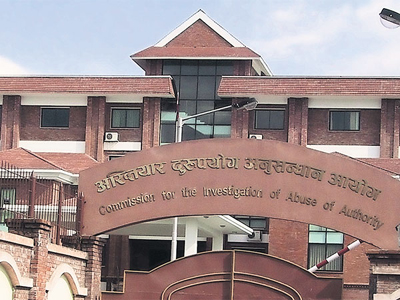 Kathmandu / Jan 3: The Commission for Investigation of Abuse of Authority (CIAA) has filed a charge sheet against undersecretary at the Ministry of Finance Rajendra Dhungana and his wife Madhu Koirala Dhungana on Friday.
Issuing a press release on Friday, the anti-graft body informed that undersecretary Dungana failed to furnish details regarding the valid source of his income worth Rs 46.8 million to CIAA during the investigation. He has been found to have been involved in amassing money illegally by abusing power and authority, CIAA said.
The case was filed against Dhungana at the Special Court, Kathmandu for his involvement in corruption during his tenure at the MoF. CIAA has also filed a corruption case against Dungana's wife after finding that the illegally earned amount was transferred to her account.
The CIAA moved the court seeking legal action based on the prevailing anti-graft laws.