Dhakal, Baskota to take charge of Ministry of Law, Ministry of Urban Development also
January 10, 2020 | 10:06 pm&nbsp&nbsp&nbsp&nbsp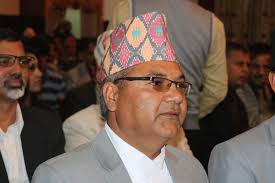 Kathmandu / Jan 10: Minister for Health Bhanu Bhakta Dhakal and Minister for Information and Communications Gokul Prasad Baskota will also be taking the charge of the Ministry of Law and Ministry of Urban Development respectively.
President Bidya Devi Bhandari on Friday designated the two ministers for the aforementioned additional responsibilities as per the recommendation of Prime Minister KP Sharma Oli, according to a press release issued by President's Office.
The two posts had been lying vacant since the Samajbadi Party quit the government two weeks ago after PM Oli refused to accept the party's proposal to amend the constitution. Since then Prime Minister Oli himself was taking the charges of the two ministries.