Tunnel Work in Melamchi Water supply project nears final phase
January 13, 2020 | 8:14 pm&nbsp&nbsp&nbsp&nbsp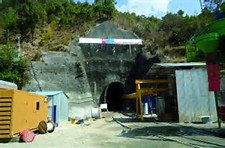 Kathmandu / Jan 13: Finishing of the tunnel work of the Melamchi Water Supply Project has reached the final phase. Now only 400 metres of final finishing work is left out.
The Chinese company Sino Hydro Pvt Limited had been entrusted with the responsibility to carry on with the remaining works of head and tunnel of the much-awaited drinking water project after the erstwhile Italian company CMC di Ravenna had abandoned the construction work leaving the finishing work of 2.5 kilometres of wall and 2.5-km of floor in limbo.
According to the Project's Information Officer Rajendra Prasad Panta, if the works in the Project would continue at this pace, it would take two more months to finish the tunnel works.
The project aims to supply at least 170 million litres of water per day to the Kathmandu Valley.
He also informed that construction of a dam would be completed before the next monsoon, according to him, to bring the Project into full operation by mid-July this year as stipulated and start the supply of water, construction of two water processing centres have been finished recently.
The Melamchi Water Supply Project (MWSP) is considered to be the most viable long-term alternative to ease the chronic water shortage situation within the Kathmandu Valley. The Project is designed to divert about 170 MLD of fresh water to Kathmandu Valley from the Melamchi River in Sindhupalchowk district. Augmenting this supply by adding about a further 170 MLD each from the Yangri and Larke rivers, which lie in the upstream proximity of Melamchi are also being investigated as future supply sources.
Various factors including political events during the past 6 years of MWSP and 3 years of SDP implementation did not make it possible to complete the project as planned. The withdrawal of the three co-financing development partners for the Project – the World Bank, NORAD, and SIDA resulted in a shortfall of $133 million in the originally projected cost of US$ 464 million as priced in 2000 AD.
ADB approved the proposed project restructuring, mainly reflecting the abovementioned financial and institutional changes made during its 6 years of implementation and proposing the removal of identified obstacles in implementation, in February 2008. After the restructuring, the Project has now been revised to a total of $317.3 million and a completion date of June 2013. The cost will be jointly funded by several agencies such as: ADB (Loan 1820-NEP) – $137 m, JBIC – $ 47.5 m, JICA – $18 m, NDF – $10.5 m, OPEC – $13.7 m, and GoN – $ 90.6 million.RSS