Govt not willing to curtail Peoples' Freedom: Minister Gyawali
January 13, 2020 | 8:14 pm&nbsp&nbsp&nbsp&nbsp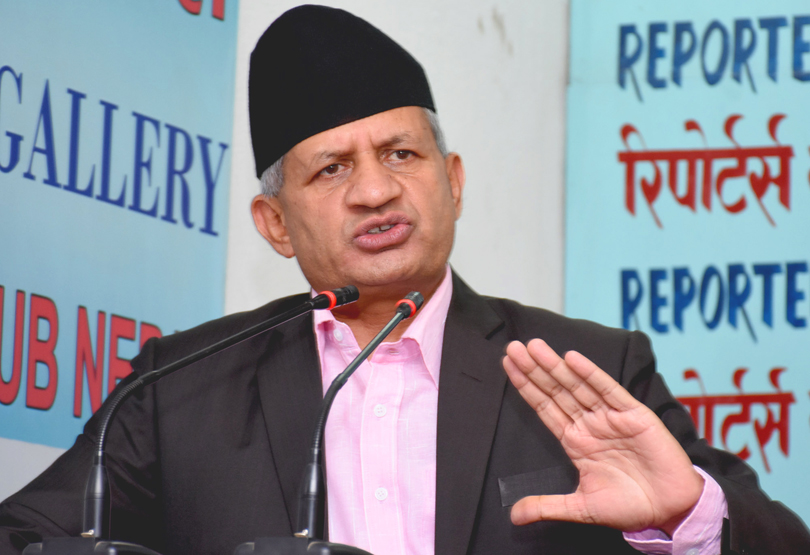 Kathmandu / Jan 13: Minister for Foreign Affairs Pradeep Kumar Gyawali has clarified that the government does not have any policy to curtail peoples' freedom.
Speaking in a Universal Periodic Review (UPR) meeting organized by the National Human Rights Commission (NHRC) here today, Minister Gyawali said that the media bill was to make social media users decent and civilized. He added that the various provisions of the bill regarding the penalty could be discussed in the parliament.
On another note, he shared that the government was working to finalize the peace process. He said the peace process would be finalized following five principles: comprehensive peace accord, international treaties and covenant, Supreme Court's decisions, feelings of victims and justice system.
He argued that the government has not interfered in the recommendation committee formed to recommend the commissioners to the Truth and Reconciliation Commission (TRC) and commission of investigation on enforced disappeared persons.
Minister Gyawali stressed the need of holding extensive discussion while preparing third report of universal periodic review in coordination with NHRC Civil Society and government.
The UPR is a unique process which involves a review of the human rights records of all UN Member States. The UPR is a State-driven process, under the auspices of the Human Rights Council, which provides the opportunity for each State to declare what actions they have taken to improve the human rights situations in their countries.
NHRC organized the discussion in course of preparing UPR's third report.
The NHRC is collecting suggestion from secretaries of different ministries, human right activists and civil society leaders to prepare the report.
NHRC Chair Anupraj Sharma said that the discussion has begun to prepare the report holding extensive discussion after collecting suggestions from all sectors.RSS