NCP Chair Dahal insists on ideological clarity to meet party goal
January 25, 2020 | 9:26 pm&nbsp&nbsp&nbsp&nbsp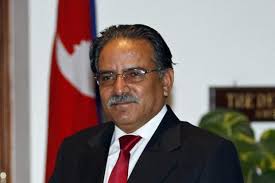 Kathmandu / Jan 25: Nepal Communist Party (NCP) chair Pushpa Kamal Dahal 'Prachanda' has said the party could make a meaningful move only on the basis of clear ideological political course of action.
He said this while releasing a book 'Bases of People's Democracy' edited by Gopiraman Upadhyay and Manhari Timilsina amidst a programme at the party central office, Dhumbarahi today.
He was of the view that the party would be infected by confusions and anarchy in the absence of clarity in ideology and a course of action thus being unable to move ahead correctly.
"Clarity and definiteness in ideology would help enrich the party," he said, adding that in the lack of these qualities, the objectives and goals would remain unmet.
Nepal went through a home-grown revolution for the establishment of socialism here. "Whatever we achieved they are totally unique as they are found recorded nowhere in the world," he said, adding that the people's democracy was adopted as a tool to create a base for socialism at home.
Giving his views about the book, he said he would help mass understand about the ideological foundation of the NCP and its future course.
The books as he described the compilation of history concerning the emergence of Communist Movement in Nepal, its struggle and ideological contents, would support draft an official document of the NCP.
Commenting on the book, NCP standing committee member Yubaraj Gyawali said the book was useful for all as it was the integrations of series of development of the Communist ideology.
Describing the 'people's democracy' as a political system to make the people sovereign, he said the book had gone through a widespread analysis to establish the idea that 'people's democracy' was the preparation phase of socialism.
Editor Upadhyay shared that the book had incorporated the 70-year –old history of the NCP while another editor Timilsina made it clear that the book, a compilation of the party's historical documents, aimed to inform leaders and cadres about the party's course of action.