Human Rights activist Dr Das honoured
February 1, 2020 | 10:38 pm&nbsp&nbsp&nbsp&nbsp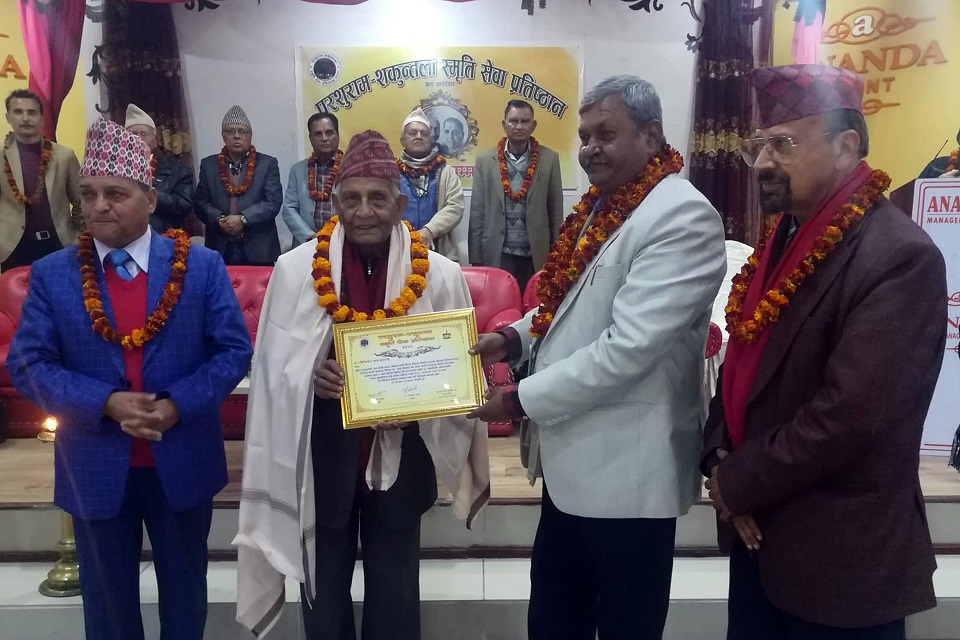 Kathmandu / Feb 1: Human rights activist Dr Gauri Shankar Lal Das has been honoured.
Minister for Labour, Employment and Social Security Rameshwor Raya Yadav handed him a letter of appreciation amid a programme organised here on Saturday by the Parshuram-Sakuntala Dahal Memorial Service Academy.
The Academy was established by Prof. Ram Prasad Dahal, constitution expert Kashiraj Dahal and economist Keshab Dahal, all sons of Parshuram and Sakuntala, to honour the contribution of Parshuram and Sakuntala to social and religious sector in Bandipur, Siraha district.
On the occasion, Kamala Basnet, who has topped in Masters' degree in English from Tribhuvan University, was also honoured.
Basnet was a product of a community school in Bandipur. Speaking at the event, Minister Yadav and the Academy's patron Prof. Dahal praised the Academy for contributing to social and religious sector in Siraha district.
Historian Prof. Dinesh Raj Panta emphasized the responsibility of offspring to spread contribution and creation of their ancestors.
Dr Das stressed the need for spreading feelings of kindness in the society. And constitution expert Dahal, also the Academy Chairperson, pointed out the need for valuing humanity and family's responsibility so as to strengthen social responsibility.