Poetry recitation inside Sidda cave to promote Visit Nepal 2020
February 4, 2020 | 5:51 am&nbsp&nbsp&nbsp&nbsp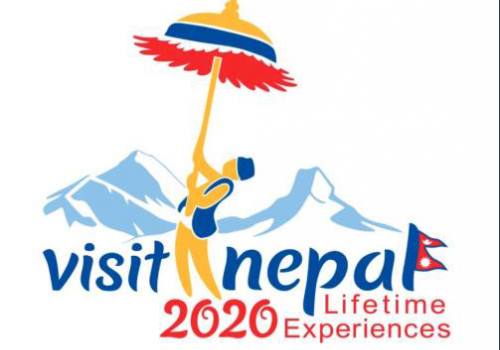 Damauli / Feb 3 : A group of litterateur assembled inside the Sidda Gufa (cave) at Bhimad municipality-9 in Tanahu district recently.
Litterateurs' group consisting Arpita Pandey, Sushma Chalise, Hari Prasad Subedi, Haribol Lamsal, Dinanath Parajuli, Ram Sharan Gaire, Roshani Thapa and Dhruba Subedi recited poems, Haiku (short form of Japanese poetry) and Ghazal inside the Cave which is 200 metres in length.
The event was organized by the Setikali Sahitya Sangam as a part of its 28th Poetry Recitation Series. Sangam's Chairperson Narayan Kailash Sigdel shared the Sangam has been organizing such events routinely to preserve and promote, language, culture, art and literature.
Towards this, the Sangam organized this edition of event inside the Sidda Gufa to promote this historically and culturally significant Cave as well as the Visit Nepal 2020 campaign.
Sigdel explained, "We had been organizing such events in other spots within the district. This time we chose the Cave to be our venue to fulfill the twin objectives-promoting the Cave and Visit Nepal 2020 event."
The government of Nepal has initiated Visit Nepal 2020 beginning from January 1 this year with an objective to attract as many as 2 million foreign tourists to Nepal in 2020.
Nepal Tourism Board has enlisted Siddagufa among its 100 new tourism destinations. The Cave that measures has four-storey. The first storey is within 30 metres from the entrance of the Cave which could accommodate as many as 500 people.
The second storey could house approximately 60 people while the third one can take in around 50 peopled. One has to completely lie down horizontally to be able to make a transit from one storey to another. The last storey is closed down with door made up of slaked lime (chuna).
Siddagufa, which is well maintained as a tourist attraction, aims to lure at least 100,000 visitors during 2020. Its surrounding features a lake, a Sidda Baba temple and other small caves.RSS