KMC completes a year of broomer operation without expected outcome
March 11, 2020 | 8:42 pm&nbsp&nbsp&nbsp&nbsp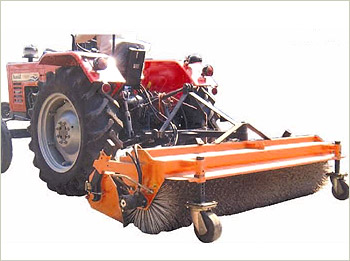 Kathmandu / Mar. 11: One year has passed since the operation of broomer by the Kathmandu Metropolitan City (KMC) to keep the city streets dust-free. However, the city roads do not look free of dust as expected.
The metropolis has started using the broomer as per its policy of making the KMC clean and beautiful. The broomers were brought from Italy last year as part of this policy. They were brought with an investment of 108 million.
KMC claims to have collected 5,079 tonnes dust from the road by employing broomer so far. Except on rainy days, KMC has been employing seven broomers daily to clean up the roads. Although the metropolis has been using broomers for one year, the roads in the city are not dust-free. The wider roads on the outskirts of the main city have shown some progress with the use of the broomer but the equipment has not been used in the inner roads.
Chief of KMC environment department Hari Kumar Shrestha said the broomers can be easily used in the outer roads whereas the same was not feasible in the inner roads. He argued that the vehicles carried the dust from the inner roads to the outer ones making them dusty.
The dust collected by using the broomer has been managed at Teku.
KMC has identified five roads for using the broomer. It is said although the metropolis has been cleaning the road as per this plan, it is not in a position to carry out the job on all days.
The presence of potholes and ditches on the roads is another problem KMC is faced with while using the broomer. It is said it is not the metropolis' duty to patch up the potholes and ditches on all city roads. Only roads that are less than eight metres wide fall under its jurisdiction and roads wider than eight metres are looked after by the Department of Roads.
Of late, the Department has been carrying out works related to repairing the ditches on the big roads. It has been patching up ditches and potholes at major places as New Road, Ratna Park, Jamal, Klaimati, Kalanki, Putalisadak, Bijuli Bazaar, among others.
Before this, the roads used to be cleaned using the two broomers with the Department through coordination between it and KMC, during the visit of VIPs.
A broomer already with the KMC has become dysfunctional. Of the five broomers, four have the capacity of 16 tonnes and one has a capacity of six tonnes. These broomers can collect dust up to 10 kilometres daily. These broomers are according to the Euro standard.
The Department has said not only potholes and ditches on the roads, problem has also been created due to the ongoing reconstruction works of the structures damaged by the Gorkha Earthquake.
According to the Department, problem has been faced in cleaning up the roads as the vehicles coming from various places at Sundhara, Durbar High School, Ranipokhari, Kathmandu View Tower and Bus Park, carry mud and make the road dusty. RSS