Supplies of LP gas upped
March 14, 2020 | 9:26 pm&nbsp&nbsp&nbsp&nbsp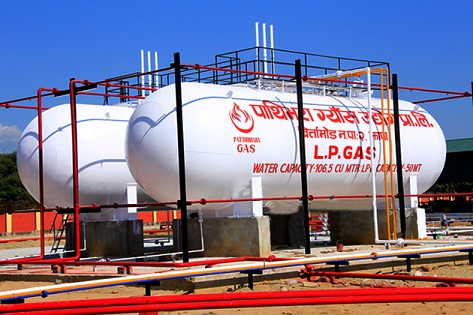 Kathmandu / Mar. 14: In order to contain the artificial shortage of daily essentials in the market in the wake of coronavirus pneumonia outbreak, the government has made the monitoring of market more effective.
Minister for Industry, Commerce and Supply Lekhraj Bhatta has visited the market places in Kathmandu and Pokhara where he warned of actions to the hoarders saying that there is no shortage of goods in the markets.
Minister Bhatta has taken stock of the market places and the problems facing consumers and retailers. Minister Bhatta has said that the government has applied all possible ways to maintain stability in the market, while urging the commoners not to panic and avoid the huge stock of goods at home.
Likewise, the government has reinforced the Nepal Oli Corporation (NOC) to import the petroleum products considering the market sentiments amid the threat of Covid- 19 outbreak. However, there has been some pressure regarding the unhindered supplies of LP Gas, as people have kept additional gas cylinders at home despite the government's repeated calls not to do so.
Of late, the NOC has hugely increased the import of LP Gas. The monthly consumption of LP Gas in the capital city is 38,000 metric tonnes but the import has reached 45,000 metric tonnes.
NOC Spokesperson Birendra Goit said that problems have surfaced as the people have reserved additional LP Gas cylinders with the threat of crisis in the market. Spokesperson Goit said that the import of LP gas has been increased of late and added that there is no problem in the supply system.
NOC has also urged the commoners not to purchase the new cylinders but to refill their empty cylinders from the retailers. RSS