KMC mulling to build parking lots in wards
March 14, 2020 | 9:26 pm&nbsp&nbsp&nbsp&nbsp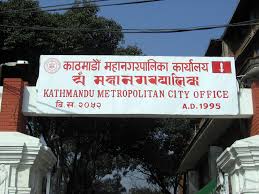 Kathmandu / Mar. 14: To end the parking woes inside the metropolis, the Kathmandu Metropolitan City (KMC) is gearing up to build parking lots at various wards of the metropolis.
The KMC has asked the ward offices to propose land inside their territory where the city office could build a parking lot.
As a part of reducing traffic congestion in the capital, Mayor Bidhya Sundar Shakya on Thursday urged the ward offices to identify the potential land where the parking lot could be constructed.
"Without appropriate parking areas, the people in the city often park their vehicles haphazardly on the streets, aggravating traffic congestion. In a lack of parking space, taking a four-wheeler inside the city has been a nightmare for its denizens because of the parking chaos," he said.
"We are planning to introduce multi-story smart parking facility inside the metropolis to manage proper and easy parking system. Providing easy, accessible, sustainable parking system, according to the nature of the city is my priority," he added.
Mayor Shakya on Thursday received information about the building design prepared by engineer Prem Bahadur Shrestha for the multi-storey parking lot in Teku.
The KMC has been planning to build a multi-storey building at Teku, where the Environment Management Division is residing.
After receiving information, Mayor Shakya asked the department heads of the KMC to conduct a study on constructing parking lot at Teku by shifting the existing barrack.
He also asked engineer Shrestha to design the building considering the existing laws and technical part.
Saroj Basnet, vice-chair of the Urban Planning Commission, said instead of building a two-storey building, double decker parking mechanism would be best in Teku.
The KMC has proposed to build basement of 20,000 square feet and an eight-storey parking building.
Each storey of the building will cover an area of 10,000 square feet and the construction cost is estimated at Rs. 600 million, said engineer Shrestha.
This eight-storey parking facility will accommodate 80 four-wheelers and 100 two-wheelers, he added.
It is informed that the KMC has proposed to construct cultural and meeting hall at the eight floor of the building. The KMC has also proposed to build a helipad on its roof.
Once the facility is constructed, it will ease the parking problem in Teku and the surrounding areas, one of the busiest business hubs in capital, with only a handful of parking areas which are invariably packed and poorly managed, said Shrestha.
This is not the first time that the metropolis had announced a plan for smart parking.
While marking the KMC's 23rd anniversary in December 2017, Mayor Shakya had announced a plan to build multi-storey parking lots to solve the parking problems in the metropolis.