Police nabs eight with 78,000 masks
March 15, 2020 | 9:36 pm&nbsp&nbsp&nbsp&nbsp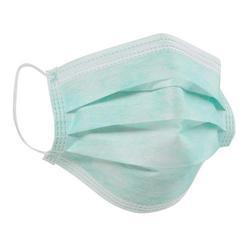 Kathmandu / Mar. 15: The police have arrested eight persons for their alleged involvement in black marketing of face masks.
The police confiscated 78,000 units of masks from Mahakal Manju Shree Traders in Dallu, operated by 30-year-old Mintu Tamang. Tamang, a resident of Kavre, has been living in Swayambhu.
Mintu Tamang, 30 of KMC-15, Mankaji Lama, 35 of Satdobato, Lalitpur, Anish Karki, 23 of Nagarjung Municipality-2, Thum Raj Upadhyay, 21 of Ekantakuna, Lalitpur, Nirpa Karki, 25 of Koteshwor, Ujjwal Adhikari, 28 of Sanobharyang, Shiva Khadka, 24 of Lalitpur and Nisan Tamang, 20 of KMC-15, Swoyambhu were arrested in charges of black marketing of face masks.
Metropolitan Police Sector, New Baneshwor and Metropolitan Police Sector, Swayambhu had arrested the eight individuals, following a tip-off.
The initial investigation has revealed that masks worth less than Rs. 5 were being sold in Rs. 31 in black market.
The police said that further investigation was going on regarding the issue.
The government authorities and law enforcement agencies have requested the public to complain regarding any black marketing anywhere.