Deuba urges former PMs for unity against COVID-19
April 5, 2020 | 9:32 pm&nbsp&nbsp&nbsp&nbsp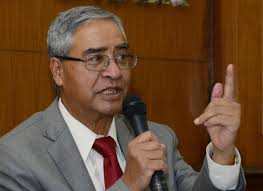 Kathmandu / Apr 05: Nepali Congress president Sher Bahadur Deuba Sunday held talks with former prime ministers and called for joint action to save the country from the current crisis.
Leader Deuba telephoned five former prime ministers and former chair of the Cabinet urging them to join hands in the fight against the COVID-19 to save the country and people from the crisis.
Deuba informed he telephoned former Prime Ministers Lokendra Bahadur Chand, Pushpa Kamal Dahal Prachanda, Madhav Kumar Nepal, Jhala Nath Khanal and Dr Baburam Bhattarai.
He also telephoned former chairman of the Council of Ministers Khil Raj Regmi.
"I appealed them to work in unity and earnestly to save Nepal and Nepalis from the present crisis," Deuba tweeted after his telephone conversation with five former PMs and former chairman of Council of Ministers Regmi.
Meanwhile, all 77 district chairs of the Nepali Congress Sunday sought arrangements for coronavirus tests in all the districts.
Issuing a joint statement, the NC district chairs demanded that the government extend the facility of COVID-19 test in all 77 districts.
They also demanded that the decision to allow the Nepali Army to purchase the health materials be annulled.
Besides, they demanded for dismissal of the officials accused of being involved in irregularities while purchasing health materials from China.
"Provide health security materials, insurance and other benefits to health workers and security personnel, allow the people stranded in Dharchula to enter the country and provide food and necessary materials to labourers and low income people," read the statement of the NC district chairs.