PM Oli claims forces in Nepal and India are conspiring to topple him from power
June 28, 2020 | 9:12 pm&nbsp&nbsp&nbsp&nbsp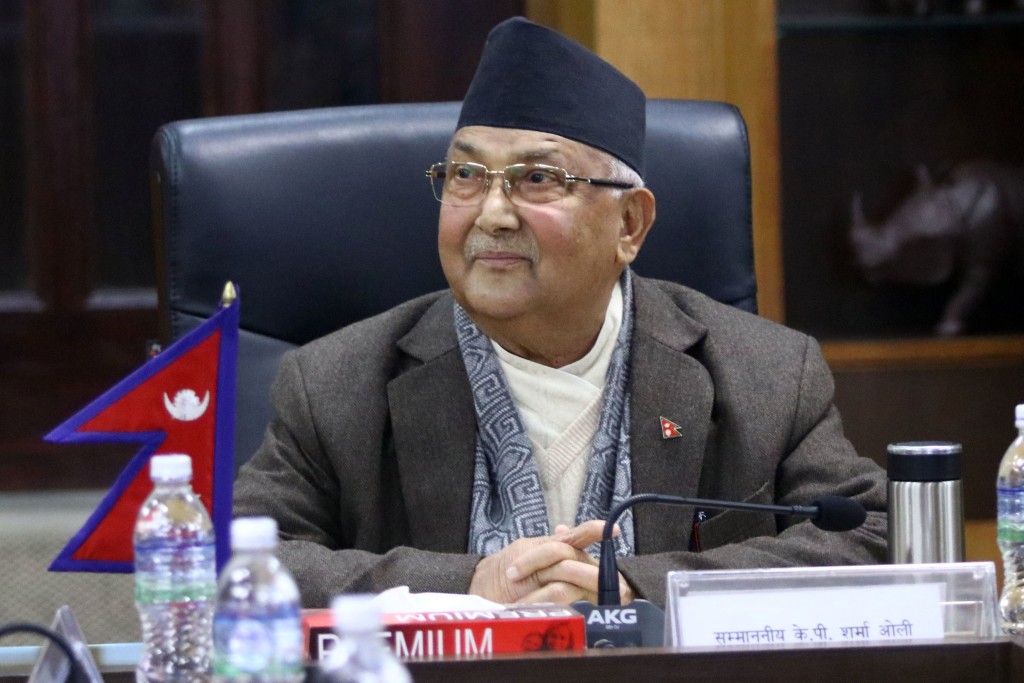 Kathmandu / June 28: Amid souring relations with India after his government endorsed Nepal's new political map that includes Kalapani, Lipu Lekh and Limpiyadhura, Prime Minister KP Oli has alleged that India along with a section of political forces in Nepal was conspiring to oust him from power in an apparent bid to take revenge against him for the new map.
Prime Minister Oli claimed that the Indian media, intellectuals and state machineries along with forces in Nepal were all conspiring to unseat him after his government took a resolute action toward retrieving the territory that Nepal maintains are illegally held by India for decades. "Listen to the media in Delhi. That shows [this]. Look at the activities in various hotels here. Look at the proactiveness of the [Indian] embassy. That has shown this," he said.
"We amended our political map. We also gave this a constitutional form. You may have heard since then that the prime minister [in Nepal] will be changed in a week or 15 days. You must have heard Indian media and intellectuals. Indian state machineries are getting surprisingly active," Prime Minister Oli said.
Addressing a function organized to mark the birth anniversary of Nepali communist leader, late Madan Bhandari, at his official residence in Baluwatar on Sunday, Prime Minister Oli said that he was aware of all the activities made over the past few weeks to oust him from power. "But it is not easy to oust a prime minister. If someone thinks of ousting the prime minister, I urge them not even think of this now. It would be wise on their part not to make a haste for this and not harbour any biases," the prime minister said.
While stating that he was ousted from power shortly after the government led by him in 2016 signed the historic trade and transit treaties with China, Prime Minister Oli said that efforts are being made to oust him from power after his government made a resolute move to retrieve the land illegally occupied by India in Nepal's north-western boundary. "Our government collapsed shortly after we returned home following agreements with China. This was because we did not have requisite majority votes in parliament," he further said.
Addressing the function organized by Madan Bhandari Foundation, Prime Minister Oli indicated that a section of political leaders within his party and the opposition parties in Nepal had joined hands with foreign forces to oust him from power. "Leaders from Nepal themselves are active in this. The debate that KP Oli should be ousted right away has been started," he said, while urging his party and parliamentary party committee not to be swayed by such forces.
Prime Minister Oli faces mounting pressure within his party to either quit the post of prime minister or the chairmanship of the party. "Nepal's nationalism is not that weak to leave a prime minister ousted from power just because he takes decisions in favor of nationalism," he further said, while stating that no forces could oust him from power as he was working in favor of Nepal's nationalism.
Prime Minister Oli also said that his stay in power is a must for the country. "I do not have any interest in staying in the office of prime minister for long. But if I am ousted now, this will set a bad precedent. I may step down. But this may create a situation for others to get ousted from power the next day if they speak in the country's interest. So, I must stay in power not for my personal interest, but for the country and not for today, but for tomorrow," he argued.
The remarks of Prime Minister Oli come a day after Foreing Minister Pradeep Gyawali briefed the party's Standing Committee meeting that the Indian side had not shown readiness to resolve the border dispute despite repeated calls from Nepal. "Although the Indian side appears not positive about sitting for talks, the government of Nepal seeks to resolve the border dispute through political dialogue. The government is constantly taking initiatives for talks to retrieve the encroached territory in Kalapani, Lipu Lekh and Limpiyadhura," Foreign Minister Gyawali had told the meeting.
The House of Representatives and the National Assembly of the federal parliament earlier this month unanimously endorsed the constitution amendment bill that paved the way for including a revised political map of the country in Nepal's national emblem. This came after a Cabinet meeting held on May 18 endorsed the new political map that includes Kalapani, Lipu Lekh, and Limpiyadhura that have been controlled by India since the 1960s. The Ministry of Land Management officially made the new map public two days later.
Nepal decided to endorse the new political map after India unilaterally built and inaugurated a link road that passes through the Nepali territory earlier in March. Nepal was dismayed by the Indian side as New Delhi continued construction works and even stationed its army despite the fact that both the countries recognized that there was an outstanding boundary issue in the region and agreed to resolve the issue through talks.
Nepal has long maintained that Kalapani, Lipu Lekh and Limpiyadhura belong to Nepal as per the relevant treaties and agreement that Nepal reached with the East-India Company. The Sugauli Treaty reached between India and Nepal in 1816 that defines Nepal's western boundary with India clearly states that the territories that lie east of the Kali River belong to Nepal.