Community school teachers run classes in their own locality to help children continue their studies
July 1, 2020 | 9:56 pm&nbsp&nbsp&nbsp&nbsp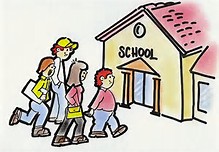 Dhading / July 1: Most of the private schools in the country, basically those affluent ones, have run digital classes amid the novel coronavirus pandemic. Millions of children, however, have not been able to attend such classes, thanks to the lack of digital technologies at their home.
A few school teachers in Dhading district have come for the help of such children unable to attend virtual classes. They have started to run classes at their own locality.
According to Bhojraj Aryal, Principal of Jaleshwori Secondary School in Siddhalek Rural Municipality–4 in the district, the prolonged lockdown made teachers think about alternative ways to make sure that all children are able to continue their studies.
"Regular classes have been suspended for over three months now. Our children here do not have that fancy digital technology. It's been a month since teachers here have started to gather children at their respective locality and run classes," Aryal said. "They spend three hours with children every day."
Aryal further stated that teachers and children, who are part of these informal classes, are from community schools. Teachers from Aryal's school have been running classes at seven different localities.
Similarly, Janajagriti Secondary School in Tharke Rural Municipality in the district has formed 30 temporary education centers. These classes are focused more into informal teaching.
"We formed such centers for the convenience of local children. Our own students as well as other children attend the classes," said Ram Chandra Rupakheti, a teacher from the school. "Children these days need even counseling and we are focused on that too," he added.