65 small irrigation projects complete
July 2, 2020 | 10:28 pm&nbsp&nbsp&nbsp&nbsp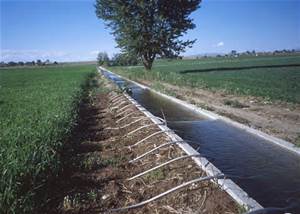 Bharatpur / July 2 : A total of 65 small irrigation projects have completed in Chitwan district. Among 135 such projects, 65 are now completed, according to Prime Minister agriculture modernization implementation unit.
The Unit had launched small projects like shallow tube well, boring, and drip irrigation for the current fiscal year.
Information officer at the unit, Madhav Poudel, informed that remaining projects were also under construction now. The agriculture modernization project has 75 irrigation scheme under paddy zone, 40 under vegetable zone, 15 under banana zone. With the completion of the project, it is expected that 450 bighas of land will have irrigation. One shallow tube well can irrigate four bighas of land.
In the current fiscal year, Rs 14 million was allocated for the small irrigation programme. Huge chunk of investment – Rs 6 million – was made on vegetable zone.
The small irrigation programme has 50 percent investment by the consumers. All local levels except Madi Municipality and Ichchha Manakamana Rural Municipality have the small irrigation programme in the district. RSS