Public transport to resume in Kathmandu valley, 50 % increment in fare
July 9, 2020 | 9:27 pm&nbsp&nbsp&nbsp&nbsp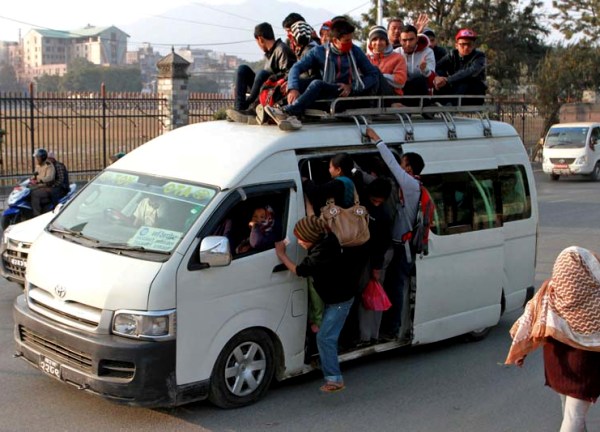 Kathmandu / July 9: The government has decided to allow resumption of public transport service within a district and in case of the Kathmandu Valley, within the valley.
Dr. Yuba Raj Khatiwada, government spokesperson and Minister for Finance, Communications and Information Technology, said on Thursday that the operator of the public transport should fulfill all safety measures to resume the services.
Speaking at the weekly press meet organised to inform decisions of the Cabinet meeting, Dr. Khatiwada said that a taxi could carry two passengers only but if the passengers are of the same family, the taxi can carry passengers as per its capacity.
Referring to the Cabinet decision, he said public transport service could be resumed for short distance, such as within a district outside the Kathmandu Valley, and in case of the Kathmandu Valley, within the valley.
He predicted that it would take some days for the public transport service operators to arrange for fullfiling the fixed safety measures and standards. But, if they meet the standard, they can resume even from tommorow.
The government has made the standard for public transport service that a public passenger bus can carry passengers only half of its passenger capacity, sanitisers must be made available in the public buses, all passengers must wear face mask and the driver and the assistants must put on gloves and face mask. And that there should be a passenger in a row.
Minister Khatiwada said that the public buses could charge the passengers 50 per cent additional of the normal charge as the service fare.
Public transportation fare to go up by 50%
The government has said that public transportation fare is increasing by 50 percent until the next decision as vehicles are allowed to carry only 50 percent of their total capacity.
Minister for Communications and Information Technology Yuba Raj Khatiwada, who is also the spokesperson of the government, said since public vehicles are allowed to carry passengers only 50 percent of their actual capacity, the fares have been increased by 50 percent to help meet the operation cost of vehicles.
The government has already announced plans to operate short-distance public vehicles within the respective districts. "The decision to increase fares will be effective only for a limited period of time. The government will review the decision after the situation [of COVID-19 pandemic] comes to normalcy," said Minister Khatiwada.
The public transportation has been on a halt after the government imposed a nationwide lockdown to curb the spread of COVID-19 on March 24. Public transport entrepreneurs have complained that they are forced to undergo a severe economic hardship due to prolonged lockdown.