Entrepreneurs set various preconditions to resume public transportation
July 10, 2020 | 9:45 pm&nbsp&nbsp&nbsp&nbsp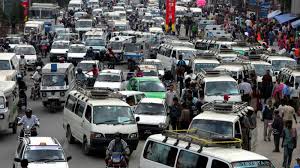 Kathmandu / July 10: The Federation of Nepali National Transport Entrepreneurs on Friday put forth various preconditions for the resumption of public transportation.
A day after the government decided to allow short-distance public transport, transport entrepreneurs said that they will not resume public transportation under the current circumstances.
At a press conference, the chairperson of the Federation, Yogendra Nath Karmacharya said that transport entrepreneurs will be able to resume public transportation only after the government addresses their demands including deferral of the bank loan repayment of the lockdown period, exemption from bank loan interest, and lowering of interest on bank loans, among others.
"Public transportation entrepreneurs have incurred huge losses due to the COVID-19 pandemic. It is going to cost us approximately Rs 50,000 to 500,000 per vehicle for maintenance before we can bring our vehicles out on the road. Isn't it a serious crisis for us? Therefore, we hope that the government will address our demands at the earliest. Otherwise, we won't be able to resume public transportation," Karmacharya said.
The Federation also demanded that the government arrange insurance coverage for the safety of drivers and conductors in the days to come.
It is worth-mentioning here that the government decided to resume public transportation services amid mounting pressure from the public transport entrepreneurs to allow resuming their service as they are "forced to face severe economic hardships due to the prolonged lockdown". Hundreds of taxi drivers had staged a protest in Kathmandu a few days ago demanding the government allow them to resume the service.
The transport entrepreneurs said that they will be forced to hand over the keys to the government if it does not address their genuine concerns.
In a move to further relax the nationwide lockdown enforced to curb the spread of coronavirus, the government on Thursday decided to allow the resumption of public transport within the same district with fifty percent seating capacity.