Sajha Yatayat to resume service in Kathmandu Valley
July 11, 2020 | 9:04 pm&nbsp&nbsp&nbsp&nbsp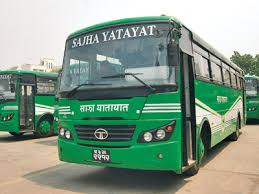 Kathmandu / July 11: Although the Federation of Nepali National Transport Entrepreneurs has put forth various preconditions for the resumption of public transportation, Sajha Yatayat has decided to resume the short-route public transportation services in the Kathmandu Valley.
"Sajha Yatayat buses stand ready to start limited services in the Valley within the next few days, promoting safe travel with social distancing. The buses and their handlers have missed our passengers dearly, and can't wait to get back on the road," Kanak Mani Dixit, chairman of Sajha Yatayat, tweeted on Saturday morning.
Although the government has already decided to allow public transportation within the same district, the public transportation operators have put forward various demands including deferral of the bank loan repayment of the lockdown period, exemption from bank loan interest, and lowering of interest on bank loans.
The government has also said that the public transportation fare will be up by 50 percent until the COVID-19 situation normalizes. "The government has decided to increase the transportation fare so that the public vehicles operators meet their operation costs," Yuba Raj Khatiwada, spokesperson for the government, said during a press meeting a few days ago.
The government has also decided that public vehicles can carry only 50 percent passengers of their total capacity. Likewise, the driver and the helper should wear masks and follow other safety measures in the vehicle. Likewise, passengers should wear masks, and follow "social distancing" measures inside the vehicles.
The public transportation service has come to a halt after the government announced a nationwide lockdown on March 24.