Chandra Prasad Dhakal declares his candidacy for FNCCI senior vice president
July 14, 2020 | 8:09 pm&nbsp&nbsp&nbsp&nbsp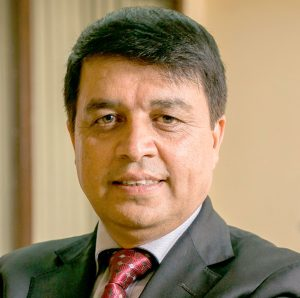 Kathmandu / July 14: Chandra Prasad Dhakal, vice-president of the Federation of Nepalese Chambers of Commerce and Industry (FNCCI), on Tuesday announced his candidacy for the position of senior vice-president in the upcoming election of the federation. The umbrella organization of the country's private sector has scheduled the election of its top position for August 10-11.
Current associates' vice-president Dhakal will be backed by his panel members, Ram Chandra Sanghai, Umesh Lal Shrestha and Guna Nidhi Tiwari. While Sanghai will be the contender for next associates' vice-president, Shrestha and Tiwari will fight for vice presidents of commodity and municipal categories respectively.
As per the FNCCI rule, the senior vice-presidential race is a high-stakes affair as the winner will automatically become the next president of the FNCCI after three years.
Dhakal has come up with the slogan 'Public-private partnership: base for prosperity' for his election campaign. Kishor Pradhan is another potential contender for the position this time but he is yet to declare his candidacy.