With 1,359 COVID-19 cases including 454 in Kathmandu valley, national tally climbs to 44,236
September 4, 2020 | 9:51 pm&nbsp&nbsp&nbsp&nbsp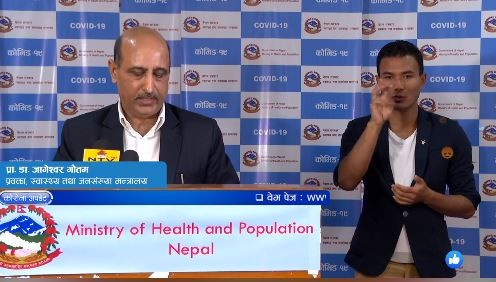 Kathmandu / Sept 4: As many as 1,359 people were diagnosed with the novel coronavirus disease (COVID-19) in the past 24 hours.
According to the Ministry of Health and Population (MoHP), 464 females and 895 males tested positive for this virus during 13,638 real time PCR tests conducted at various labs across the country in the last one day. A total of 745,490 PCR tests have been carried out so far.
With this, the total number of COVID-19 cases across the country has reached 44,236.
Health ministry Spokesperson Dr Jagshwar Gautam, while speaking during a regular virtual media briefing on Friday, shared that 1,354 COVID-19 patients who were undergoing treatment for this disease, gained recovery on Friday taking the recovery tally to 25,561. Dr Gautam said that the recovery tally in Nepal stands at 58 percent as of Friday.
Nepal witnessed 14 more cases of fatalities – 10 males and four females – due to the COVID-19 infection in the last 24 hours. As of Friday, the number of people dying of COVID-19 has reached 271.
Kathmandu Valley records 454 new cases of COVID-19
The Ministry of Health and Population (MoHP) on Friday confirmed 454 new cases of COVID-19 in the Kathmandu Valley.
In 13,638 Real Time Polymerase Chain Reaction (RT-PCR) tests done in the last 24 hours, as many as 454 persons were found with the virus infection in the valley itself, informed Dr. Jageshwor Gautam, spokesperson of the ministry, in the daily press briefing today.
Of the 454 new cases, 386 were detected in Kathmandu, 36 were found in Bhaktapur and 32 were detected in Lalitpur.
Moreover, some 1,359 cases of the novel coronavirus infection were confirmed across the nation, taking the national tally to 44,236 including 25,561 cases of recovery and 271 death cases.