Alternative learning be recognised as part of academic session: Education Minister
September 4, 2020 | 9:51 pm&nbsp&nbsp&nbsp&nbsp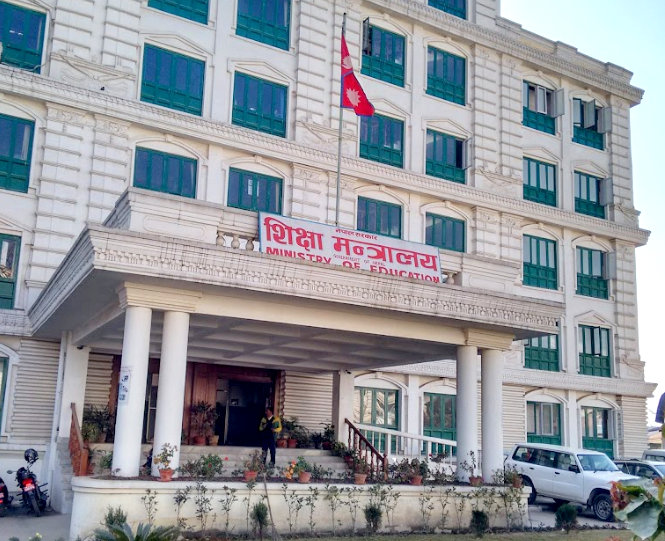 Kathmandu / Sept. 4: Minister for Education, Science and Technology, Giriraj Mani Pokharel, has called for recognising the alternative system of learning as a part of the academic session as schools and colleges could not be opened due to the risk of coronavirus pandemic.
He also urged the teachers, parents and students to compulsorily participate in this process. The Education Minister said so while addressing a virtual news conference organised today. Minister Pokharel shared that a campaign would be conducted for ensuring minimum learning through alternative system for all with the principle that home is the school in the present adverse situation.
He also called on the teachers to make valuable contribution by making the maximum use of the alternative means of communications technology as internet, radio, television and telephone. The teachers not having access to these means should teach by maintaining physical distancing.
He further said that this topic was discussed in the meeting of the Council of Ministers today. Directives have been given to prepare the action plan after identifying teachers and students with access to alternative learning means and technology and those without.
The Education Minister also said that the universities and bodies concerned were working on adjusting the syllabus by recognising the alternative system of learning as academic session. He urged the local levels to monitor this learning and maintain effectiveness of the learning.
Minister Pokharel announced that the 'Corona insurance scheme' has been started for all the teachers.
"Nepal cannot withstand if the coronavirus spreads further by deciding to open the educational institutions in a hurry. The example of many countries in the world also gives us this learning. So, there is no alternative to alternative mode of education at present," he reiterated.
Responding a question, the Education Minister said that the private schools could charge fees for alternative learning, with permission from the local levels.