Youths make a lakh (over 100 thousand) rupee a month from goat farming
September 14, 2020 | 9:42 pm&nbsp&nbsp&nbsp&nbsp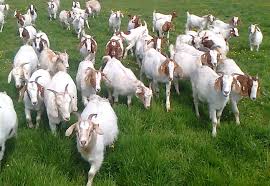 Gyanu Pangeni / Kawasoti, Sept. 14: It has been only two years since Suraj Sapkota, 22, of Shankdev, Hupskot Rural Municipality-3, in Nawalpur (Nawalparasi east) started goat raising, but he has already started to bag an income of a lakh rupees a month from the husbandry.
Sapkota's daily works include providing fodder to the goats, cutting grasses, cleaning the pens, caring for the baby goats and negotiating on the price of the goat or kids with the clients. It has been his regular work for the last two years and COVID-19 lockdown has had almost no impact on his work.
Although some of Sapkota's friends still suggest him to take some foreign language test and go abroad for job and employment. But Sapkota who is already all aware of the difficulty in the foreign land to earn money has no willingness to fly abroad. His father and brother who work abroad have made him clear that there is no easy money abroad.
In partnership with his neighbour Khagendra Bhurtel, 32, Sapkota established a private company named Shankhdev Yuwa Krishi and started goat farming by bringing in some of boar goats with an investment of Rs. two million. At the outset, there were 70 goats including some local breed but now he has have over 150 goats in his farmhouse.
Sapkkota said farmer clients come to his pens for purchasing kids. A kid of three months cost about Rs. 1500. He also sells some he goats for meat. Thus Sapkota says he has been earning about Rs. 150,000 a month from the goat farming.
His farming is stretched in four Bighas of land. Of the total land, less than five per cent has been used for building pens and other infrastructure while the rest has been used for planting grasses.
Sapkota's partner Bhurtel expressed satisfaction with the goat farming.
"I worked for four years in Saudi Arabia. But now I understand that if we can work well, we can earn more than in the foreign land," said Bhurtel.
Bhurtel said that they were also making a good income for selling Super Napier grass which they have planted and considered very nutritious for goats. We have exported our grass to 17 districts and earned about five lakh rupees from it, said Bhurtel.
Sapkota shared that as the most important aspect in goat farming was management of pen, they had built modern pens in consultation with technical expert and that they were building more pens to ensure they could rear greater number of goats. Courtesy: Rising Nepal