NEA bids farewell to CEO Ghising
September 15, 2020 | 10:15 pm&nbsp&nbsp&nbsp&nbsp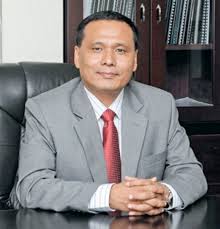 Kathmandu / Sept 15: The Nepal Electricity Authority (NEA) bade farewell to Chief Executive Officer Ghising organizing a programme on Tuesday. Ghising retired yesterday after completion of his four-year term as the head of the NEA.
At the programme, senior deputy executive director Hitendra Dev Shakya praised the outgoing CEO Ghising as an honest and diligent person. "With Ghising's successful leadership in the last four years at NEA, we all employees felt proud of working here. Even his enemy respects him."
Similarly, another deputy executive director Harraj Neupane remembered Ghising as an energetic person. He hoped that atmosphere would be built to appoint Ghising as the CEO again.
Deputy Executive Director Lekhnath Koirala shared the impression of public trust on NEA while Coordinator of Authorized Union Rameshwor Poudel believed that Ghising would be reappointed as CEO by removing legal snags.
In his farewell remarks, Ghising observed, "When I took responsibility, the country was reeling under darkness with acute load shedding. Even the rainy season saw six to eight hours of power outage. But, working in cooperation with good intention, scientific management, good balance between demand and supply of electricity made NEA possible to declare country free of load shedding."
With able leadership of Ghising, the NEA, which was at loss of nearly Rs 34 billion, became successful to earn the profit of some Rs 11 billion in the last four years.
Ghising set such example that how able and committed leadership could change public corporation in Nepal, which are facing numerous problems, the change in public corporation which has contributed well to country's development endeavour. It has also served as a lesson to the political leaders and parties that they must select right man in right place for bringing reforms in any corporation. RSS