Gurjo has uncountable health benefits, but over consumption lowers blood pressure, say Ayurvedic doctors
September 20, 2020 | 8:47 pm&nbsp&nbsp&nbsp&nbsp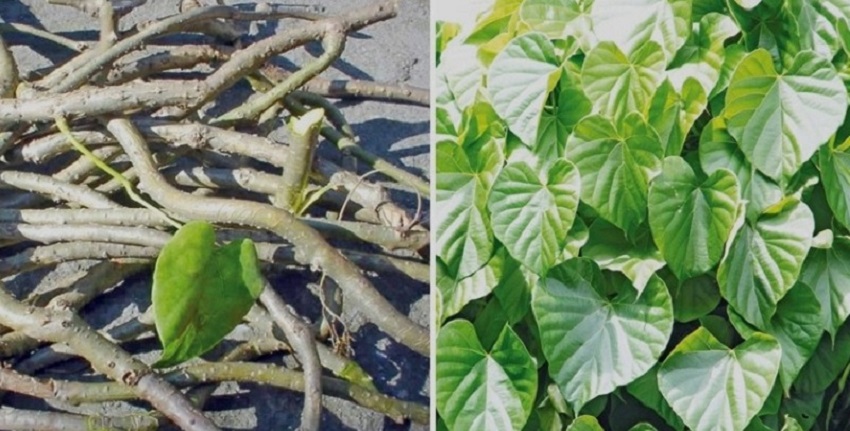 Kathmandu / Sep 20: A small backyard garden in Pritam Acharya's house was full of giloy (gurjo). Acharya, a resident of Chandragiri Municipality, used to destroy the herb once a month. But now, Acharya regularly consumes giloy water every morning on an empty stomach.
"I knew that giloy (gurjo) had uncountable benefits. All of my family members have started consuming giloy water. I got to know about the benefits after one of my COVID-19 infected friends consumed gurjo water regularly while he was staying in isolation," said Acharya.
As the number of COVID-19 cases started to spike, people started to consume giloy water to boost their immune system. Talking to Republica, Ayurvedic doctors said that giloy water has uncountable health benefits, and the herb has been used in Vedic treatment for a long time.
According to Dr Jitendra Shrestha, of Ayurvedic Teaching Hospital in Kirtipur, giloy has always been used in ayurvedic medicines. "The way potatoes are mixed with every vegetable, giloy is mixed in every ayurvedic medicine," said Shrestha, adding that giloy helps remove toxins, purifies blood, and combats liver diseases, among other benefits.
The Kirtipur-based Ayurvedic Hospital is providing giloy water to COVID-19 infected patients to boost their immune systems. "It is not that giloy water cures the COVID-19 infection; it boosts the immune system. Strong immunity helps battle the COVID-19 infection," said Shrestha.
He says that there is a proper way to regularly consume giloy water. "It can be consumed twice regularly in the morning and evening. As the taste of giloy is bitter, over consuming it decreases blood pressure. The stem of giloy can be crushed and 10-15 ml of it can be consumed with water every day in the morning and evening," he said, "In case of powered giloy, one can consume 3-4 grams everyday with water."
Even Prime Minister KP Sharma Oli had recommended consuming giloy to boost the immune system. "There has been much publicity about giloy in recent times. A lot of patients have been asking about the benefits of the herb. The consumption of giloy has increased at a huge scale in the pandemic," Shrestha added.
"It cannot be said that the herb cures COVID-19. But the consumption definitely boosts the immune system, which will help in fighting COVID-19," said Shrestha.
Though giloy water has medicinal values, some may feel weak after consuming it. "It has high antioxidant values. So some people might feel weak. If this happens, they can dilute the juice," he said.